Monday, September 21, 2020 - 12:30pm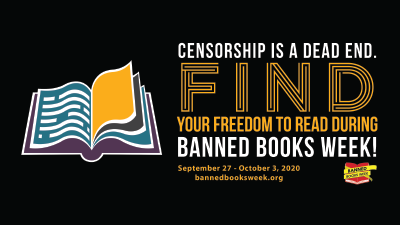 Each year we join organizations like the American Library Association in honoring Banned Books Week (September 27 - October 3, 2020) as a celebration of intellectual freedom and free expression. Since 1982, Banned Books Week highlights historical and ongoing attempts to censor books in libraries and schools. The special week is an opportunity to educate the public about the harms of censorship.
Even as certain book titles continue to get challenged throughout the country, most books remain accessible to the public thanks to the collective push for intellectual freedom by library staff, schools, teachers, parents, and others.
Here are some recently challenged titles you can check out:
Youth
Teen/Young Adult
Adult
The Bluest Eye by Toni Morrison
The Curious Incident of the Dog in the Night-Time by Mark Haddon
Fun Home by Alison Bechdel
The Glass Castle by Jeanette Walls
The Handmaid's Tale by Margaret Atwood
I Know Why the Caged Bird Sings by Maya Angelou
The Kite Runner by Khaled Hosseini
Persepolis by Marjane Satrapi
---
If you'd like to see more, here are the Top 10 Most Challenged Books of 2019, as published by the ALA.