Thursday, October 10, 2019 - 12:45pm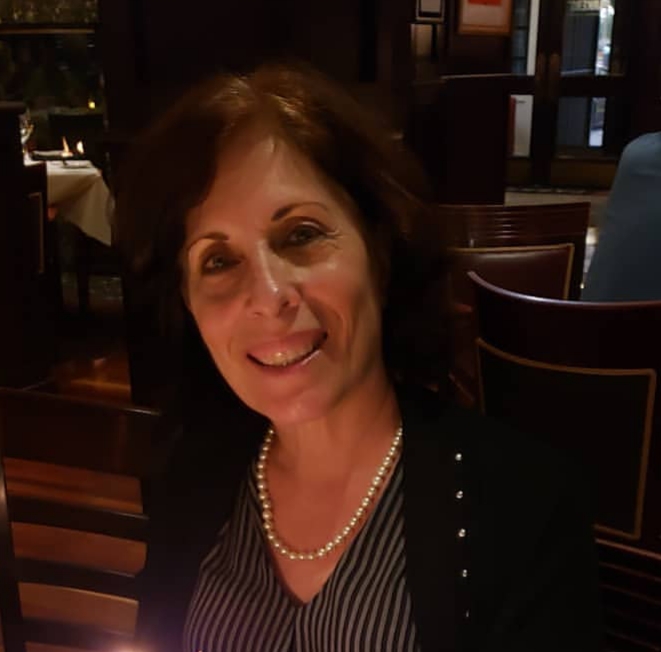 Caralyn Lipschutz's novel about a soldier in the Civil War, The Grand Illusion: A Girl Soldier in the Civil War, is part of the library's Local Collection, a space on the second floor next to the Reference desk. Created by local writers and artists, the materials include novels, nonfiction, short stories, music, scores, and films for patrons to browse and check out.
Where did you get the idea to write The Grand Illusion?
I can remember the day I read an article in the Daily Herald that inspired me to write my story, The Grand Illusion: A Girl Soldier in the Civil War. The sun was shining through the sliding glass door, I can still remember the birds singing as I relaxed with a cup of coffee and the paper after getting my three girls off to school. I picked up the Neighborhood section first and was captured by the story. It was about a woman whose grandmother in Afton, New York, passed away and it was her responsibility to help clean out the home to get it ready for sale. Knowing that her grandmother, one of nine children, had an older brother in the Civil War, one her grandmother refused to talk about, she was not surprised to find an old trunk with a Civil War uniform and other memorabilia inside. She decided to put the trunk aside until the other work was done so she could go through it with more care.
When her chores were done she went eagerly back to the trunk and began reading the letters that her uncle had sent home from the war every letter was signed, "Your loving daughter, Rosetta Wakeman, Alias Private Lyons Wakeman." Private Wakeman served with a New York Regiment from October 1862 until death from dysentery in June 1864. The Army never discovered Wakeman's true identity so the gravestone reads: Pvt. Lyons Wakeman.
Because this was 1990, I drove right to the Lake Zurich library and bubbled out all my enthusiasm to our librarians. We all agreed that we wanted our daughters and our country to know about the women warriors who fought alongside the men! They were instrumental in helping me research.
After her discovery the family replaced the headstone adding Wakeman's real name and date of birth.
"I am as independent as a hog on the ice. If it is God's will for me to fall in the field of battle, it is my will to go and never return home." In a letter, Private Lyons Wakeman of the 153rd New York Infantry wrote to family back home in Afton, New York.
How long did it take you to complete the work and what was the process like?
I started my book in 1990, working on it while my girls were at school. Which begs the question: What took so long to be published? It wasn't for lack of trying. I went to a writer's workshop and when the woman leading the group asked if anyone had an example of their query letter, I ran up with mine. She said it was the best query letter she'd ever read. I sent chapters to agents and publishing houses that said they would look at it but I don't think they saw value in a Civil War book about women. I know that I got very frustrated and put it in a drawer for a year or two at a time, but my family and friends kept telling me how incredible it was. Their love helped me persevere.
By the time I retired, the world had changed and so I found a self-publishing company that had editors and proof readers. It was expensive but I knew it was the perfect time for this story to be told. The company iUniverse had two award levels and I won both.
How has being part of the Northbrook community affected your work?
Northbrook helped shape my spirit. The small town values, everybody knowing everyone else. When I was young, Northbrook was too. We had a farm next door and blueberry bushes growing in the open field by the forest preserve. We rode our bikes to town, bought little Louie's hot dogs, ate it on the Village Green and then went for ice cream. Holiday parades, Northbrook Days, these traditions of childhood are still the same. Now we've both grown older and bigger, but the small town feeling is still there. People in Northbrook are full of love.
What would you want to share with someone who is reading your book?
The thing I'd like to share with readers is that this is a story for everyone. The story is based on the real women who disguised themselves as men to be soldiers and spies, but it is more than a Civil War novel. The main character, Alexandra, must come to terms with who she is and what she must do as she impersonates a man. Alexandra struggles to come to terms with the choices she makes, but by the end of the novel these choices and experiences have made her into a mature woman. Though the gender roles that Alexandra disregards are finally being challenged publicly today, it is still not without great risk. Racism has not disappeared. It still rears its ugly head. And no matter what the era, women are trying to define who we are and what we stand for. That is why this story will resonate with readers today.
---
The Northbrook Local Collection features the works of authors, musicians, and filmmakers who currently reside, or have spent a significant part of their lives in Northbrook. Are you a local creator? Learn how you can contribute your work.