Saturday, May 1, 2021 - 11:45am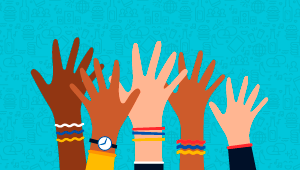 As the Northbrook Public Library's Summer High School Volunteer program continues to adapt to social distancing guidelines, this summer's volunteers will have the choice to work from home individually on group assignments or to participate in small groups working outdoors at the library. The majority of the assignments allow volunteers to complete work from home, with Zoom calls for orientation and group work check-ins.
Students who are be attending high school in the fall of 2021 are invited to apply to complete various projects, including crafts, gaming, books, and more. They must also be able to commit to completing 8 hours of service between June 14 and August 15.
To learn more about volunteering, students can download the Volunteer Information Packet, which contains important information about the various assignments, as well as a link to submit an online application. Applications must be submitted online by Sunday, May 23. To learn more about submitting an application, visit www.northbrook.info/summer-high-school-volunteer.