Tuesday, July 14, 2020 - 1:45pm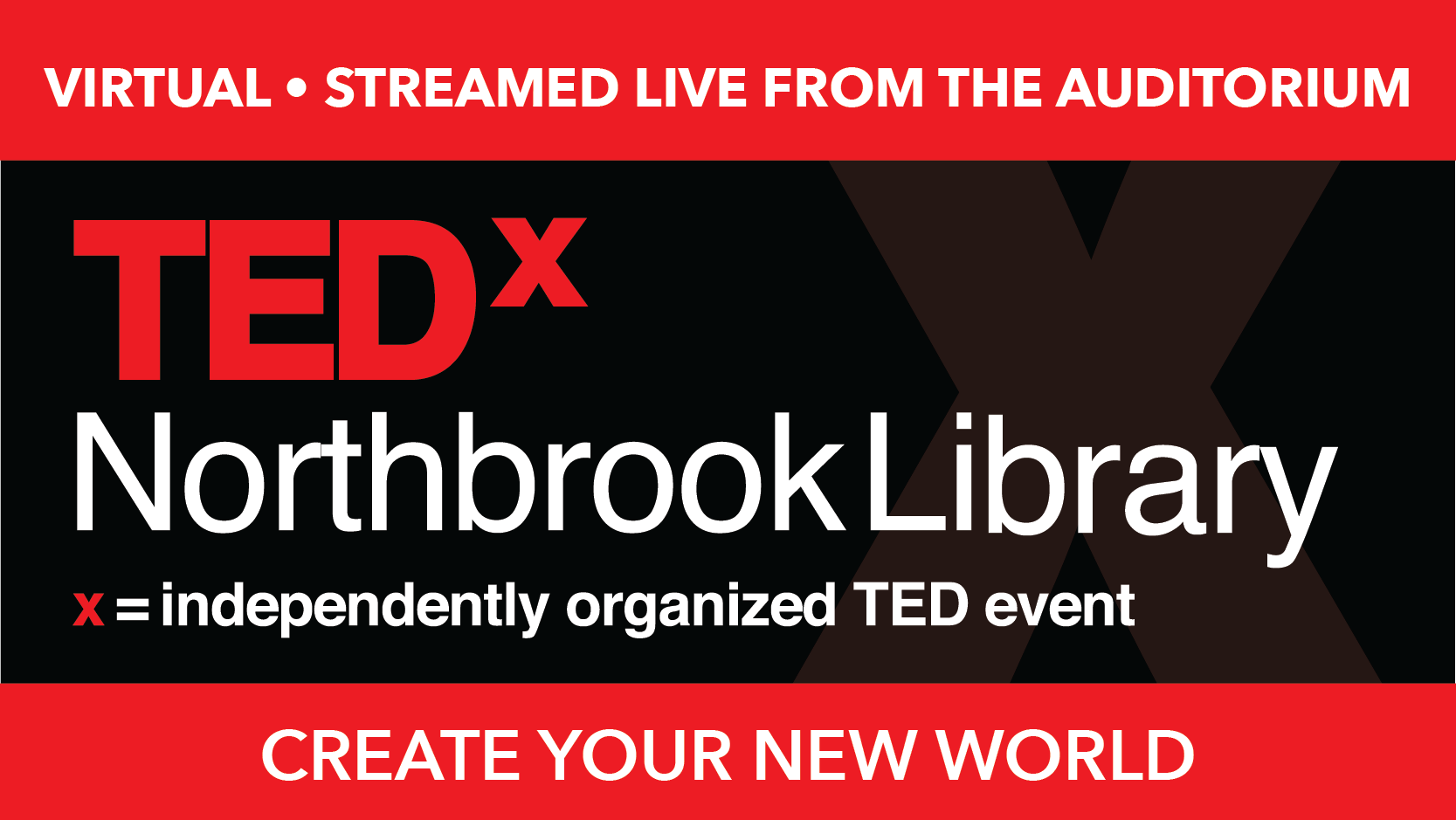 TEDxNorthbrookLibrary will be live-streamed from our Auditorium on August 1 from 1:00-2:30pm. The independently organized event, licensed by TED, will feature local voices under the theme of "Create Your World." Advance registration is required to experience this live online event. Visit www.northbrook.info/tedx to register.
Originally launched in 2009, TEDx is a program of locally organized events that bring the community together to share a TED-like experience. Some of the best talks from TEDx events have gone on to be featured on TED.com and garnered millions of views from audiences across the globe.
TEDxNorthbrookLibrary
Caitlyn Hannon, event organizer says, "We're looking forward to being able to bring the live TEDx experience directly into people's homes this year. This is a really exciting group of speakers from around the area who are going to be sharing ways that we can improve our lives and the lives of others. The topics range from making mindful purchases to creating a more inclusive and welcoming world for other people."
Speakers and topics
Bryant Moore, Educator, Author, Community Activist. "Reconceptualizing Academic Excellence for Children of Color"
Kristyn Ivey, KonMari Consultant, Home Stylist, Author
"Confronting a Decade of Online Order History is the New Self-Care"
Lauren Schrero, Disability Activist, Executive Director
"Ability Inclusive Mindset (AIM)"
To register to receive a link to this live online event, or for more information about TEDxNorthbrookLibrary, visit www.northbrook.info/tedx.
About TEDx, x = independently organized event
In the spirit of ideas worth spreading, TEDx is a program of local, self-organized events that bring people together to share a TED-like experience. At a TEDx event, TED Talks video and live speakers combine to spark deep discussion and connection in a small group. These local, self-organized events are branded TEDx, where x = independently organized TED event. The TED Conference provides general guidance for the TEDx program, but individual TEDx events are self-organized. (Subject to certain rules and regulations.)
About TED
TED is a nonprofit organization devoted to Ideas Worth Spreading, often in the form of short talks delivered by leading thinkers and doers. Many of these talks are given at TED conferences, including our annual gathering in Vancouver, as well as TEDWomen, intimate TED Salons and thousands of independently organized TEDx events around the world. Videos of these talks are made available, free, on TED.com and other platforms. Audio versions of the talks from TED2019 are published to TED's podcast TED Talks Daily, available on all podcast platforms.
TED's open and free initiatives for spreading ideas include TED.com, where new TED Talk videos are posted daily; TEDx, which licenses thousands of individuals and groups to host local, self-organized TED-style events around the world; the TED Fellows program, which selects innovators from around the globe to amplify the impact of their remarkable projects and activities; the Audacious Project, which surfaces and funds critical ideas that have the potential to impact millions of lives; TEDSummit, which gathers the most engaged members of the global TED community for brainstorms, discussions, performances, workshops and an eclectic program of mainstage talks; and the educational initiative TED-Ed. TED also has a growing library of original podcasts, including The TED Interview with Chris Anderson, WorkLife with Adam Grant, TED en Español and Sincerely, X.
Follow TED on Twitter at http://twitter.com/TEDTalks, on Facebook at http://www.facebook.com/TED, on Instagram at https://instagram.com/ted and on LinkedIn at https://www.linkedin.com/company/ted-conferences.