One Book, One Northbrook presents The Vanishing Half by Brit Bennett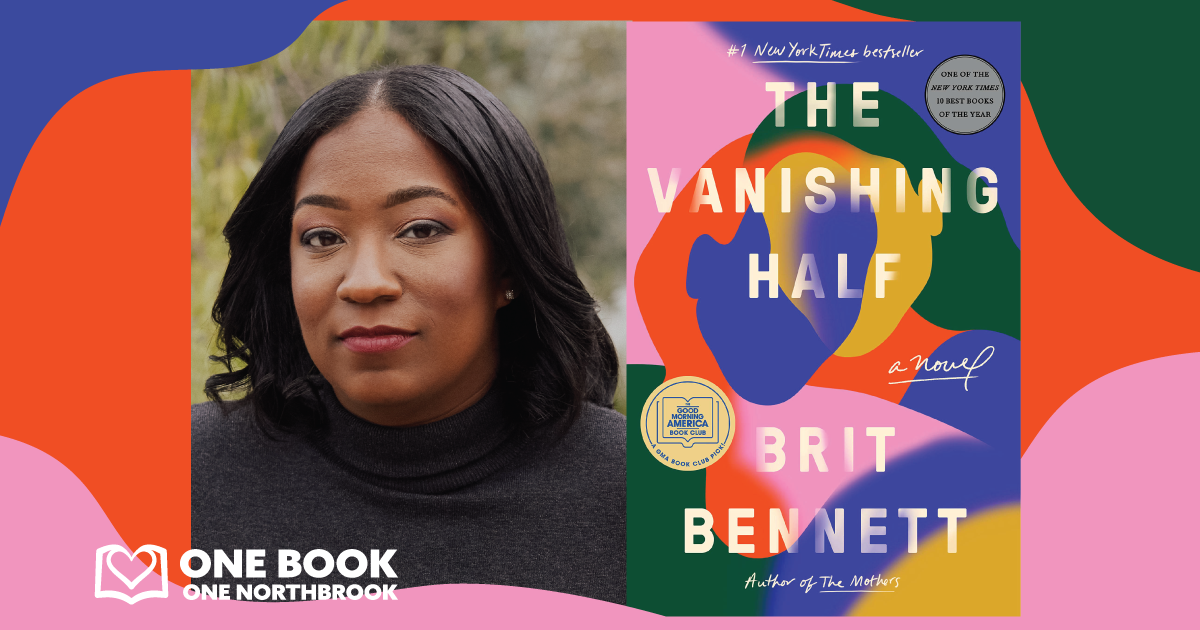 In October, we invited you to read The Vanishing Half by Brit Bennett and then to join us for an exciting lineup of programs around its themes in October, including a virtual conversation with Brit Bennett, an in-person kickoff event at the library with music from Sanctified Grumblers, movies in the Auditorium, book discussions, lectures, and more.
About The Vanishing Half
This New York Times bestseller examines the themes of race and prejudice, telling the story of identical twins who choose to live very different lives. Weaving together multiple strands of a family from the 1950s to the 1990s, it explores honesty and truthfulness, and how identities can be shaped by both society and the stories that we tell ourselves.
About author Brit Bennett
Brit Bennett graduated from Stanford University and later earned her MFA in fiction at the University of Michigan, where she won a Hopwood Award in Graduate Short Fiction as well as the 2014 Hurston/Wright Award for College Writers. Her work is featured in The New Yorker, The New York Times Magazine, The Paris Review, and Jezebel. She is one of the National Book Foundation's 2016 5 Under 35 honorees.
Thank you to our One Book, One Northbrook sponsors
We thank these generous sponsors for helping us provide our One Book, One Northbrook books and programs to the community.
BankFinancial • Cook and Kocher Insurance Group, Inc. • F.E. Moran Fire Protection of Northern Illinois • Fifth Third Bank • First Bank of Highland Park, Moore Landscapes, LLC • Northbrook Bank & Trust CO N.A. • Product Architecture + Design • Selden Fox, LTD • Today's Business Solutions Inc.
One Book Programs
10/2
One Book Kickoff & Live Concert,
1pm (Live)
10/7

White Like Her: My Family's Story of Race & Racial Passing, 2pm (Virtual)

10/7

Talking with Children about Race & Racism, 7pm (Virtual)

10/12
The Vanishing Half Book Discussion, 7pm (Virtual)
10/13
The Color of Law & Reversing Segregation, 7pm (Virtual)
10/19
Book Discussion with Nancy Buehler: The Vanishing Half, 10am (Virtual)
10/19
Author Event: A Conversation with Brit Bennett, 7pm
Watch at home on Zoom (Virtual)
Live Stream Watch Party (In-Person)
10/20
Movie: Fast Color, 2pm & 7pm (In-Person)
10/21
The Vanishing Half Book Discussion 2pm (In-Person)
10/22
Middle School Book Discussion: Genesis Begins Again, 5pm (In-Person)
10/23
Drag Queen Story Hour, 10am (Virtual)
10/25
Twin Connections, 7pm (Virtual)
10/27
LGBTQ+ Community Conversations, 7pm (Virtual)
10/28
Movie: The Hate U Give, 2pm & 7pm (In-Person)
10/29
Teen Book Discussion: The Vanishing Half (GR 9-12), 5pm (In-Person)
10/29
Teen Book Discussion: The Vanishing Half (GR 9-12), 5pm (In-Person)
Learn more about the history of One Book, One Northbrook