Our plan to reopen the building and reintroduce in-person services
We are as eager to get back into the building as you are, and we look forward to restoring services with safety at the forefront of our decisions. To ensure that we reopen the library safely and responsibly, we have developed a phased approach to reopening the library and restoring our services that aligns closely with the governor's Restore Illinois plan.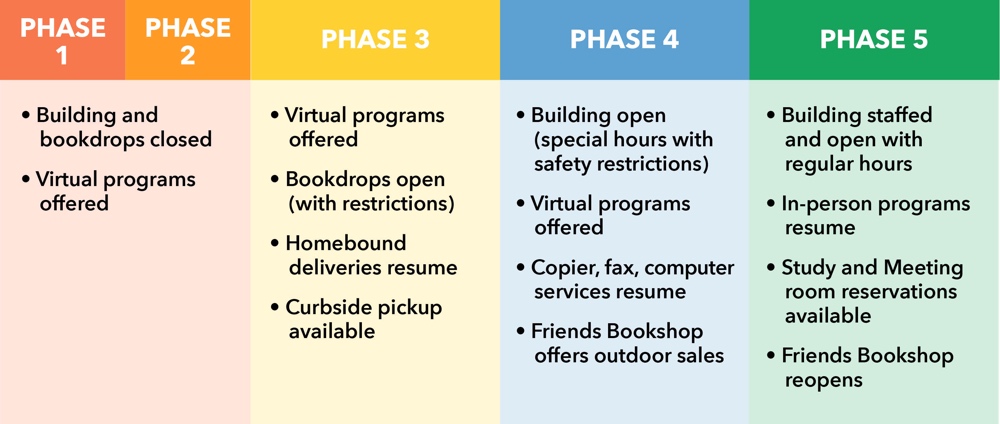 We understand you may have questions and encourage you to read the information below or reach out to us at feedback@northbrook.info or 847-272-6224 with your questions.
Current Phase
The library moved to Phase 4 on July 20. Learn more about our Phase 4 services.
Important Dates
We reopened the building to patrons as we entered Phase 4 of our plan on July 20
In this phase, we are concentrating on providing limited grab & go services. You can check out items, browse the adult Fiction and Non-Fiction collections, and print/copy/fax. You can also use computers, study rooms, and the Collaboratory by appointment with a Northbrook library card. We ask that you limit your time at the library to an hour or less. Visit our Phase 4 reopening page to learn what to expect when you return to the library.
Curbside Pickup available as of June 23
We are now offering curbside pickup to Northbrook library card holders. Place library items on hold (see a list of holdable items). Once you're notified that your holds are available, you will be able to schedule a time to pick them up online or by phone. We will not be accepting same-day requests. We will be able to accommodate pickups on foot and by bike. Learn more about curbside pickup.
We began accepting returns on June 9.
You can return library materials in the bookdrop located outside the building's west entrance 24 hours a day / 7 days a week. Learn more about returns.