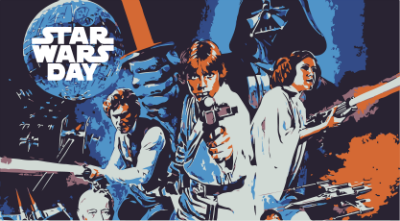 Join your fellow Star Wars fans on Saturday, December 16, 2017 to celebrate the upcoming release of Star Wars: The Last Jedi with a day of fun and adventure. Fans of all ages are welcome, and costumes are encouraged.
Cantina + Photo Booth
Enjoy light refreshments and snap a picture.
9:30am-4:00pm, Lobby
BB-8 Maze
Stop by the 3rd floor to try your hand at our BB-8 themed maze.
9:30am-4:00pm, Fiction & Media Department
Crafts
Create your own pool noodle lightsaber, Chewbacca puppet, or Yoda puppet mask. Available while supplies last.
9:30am-4:00pm, YS Activity Room & Teen Loft
E.D.G.E. Theater Lightsaber Workshop (Age 7-Adult)
Learn the safe and exciting moves stunt coordinators use in the movies. Registration for this program is currently full.
10:00-10:45am, Pollak Room
E.D.G.E. Theater Force Workshop (Age 7-Adult)
How much of the force is real and how much is just pretend? Join international stuntman Orion Couling as he explores the force and the illusion of magic on stage for fight scenes like you would see in your favorite movies and video games. Space is limited; registration is required for each Jedi in training.
11:00-11:45am, Pollak Room
Trivia Contest
Test your Star Wars knowledge, and your team could win AMC gift cards to see the new film!
1:00-2:00pm, Pollak Room
Star Wars: The Force Awakens
Watch the prequel to the upcoming release of The Last Jedi.
2:00-4:30pm, Auditorium