Tuesday, February 28, 2017 - 3:15pm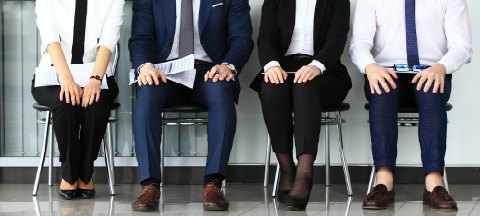 When you're searching for a new job, chances are you turn to a relative or a friend to help you through the process. But did you know you can also turn to the Northbrook Public Library? Whether you want to improve your skills, investigate a new career path, learn how to reformat your resume, or practice for your job interview, we're here to help.
Our Programs
Technology Classes
We offer a wide variety of
free technology classes
that can help you build a variety of skills. We offer basic, intermediate, and advanced classes on the various Microsoft Office programs like Word and Excel, as well as classes on using LinkedIn and Windows 10. We have also started offering introductory coding classes. Registration is required for all of our technology classes; we encourage everyone to check back frequently to see what we're offering and register for your spot.
Learn by Appointment
In addition to our technology classes, we also offer one-on-one help sessions to help get your career search started. In these sessions, we can help you set up a profile on LinkedIn or other career sites, guide you through our online resources, or give you an introduction to Microsoft Word. To set up a 30-minute session, please call the Reference Desk at 847-272-4873.
Our Online Resources
Build Your Skills
If your skills are feeling a bit rusty, resources like
Lynda.com
or
Atomic Training
can help you get back on track. Lynda.com and Atomic Training both offer self-paced video tutorials on a wide range of subjects, such as web development, communication skills, graphic design, Microsoft Office, Google Drive, video creation, and so much more. Both of these online resources are free with your Northbrook Public Library card, so explore each of them to determine which one will help you gain the skills you need for the job you want.
Resume and Interview Help
When you're ready to prepare for your career search,
Brainfuse JobNow
is an invaluable tool. With Brainfuse JobNow, you can practice interviewing with a job coach, download resume templates and receive expert feedback, and discover job listings online. Like the rest of our online resources, you can use Brainfuse JobNow for free with your Northbrook Public Library card.
Our Collection
In our Reference Department, you'll find a collection of career resource books that you can use to learn more about jobs that interest you. We have the complete Encyclopedia of Careers & Vocational Guidance, along with the Occupational Outlook Handbook and several books on college and graduate programs.
With these books, you'll also find helpful information to connect you to job opportunities and other job seekers. We offer a list of local career centers, job clubs, and networking groups near Northbrook, as well as a list of job search websites. We also post the calendar of events for the Career Resource Center in Lake Forest, which offers free networking events and other programs to help you get your career search on track.
For more information about how the Library can help you during your job search, please visit our Reference Department on the second floor.