Friday, June 12, 2020 - 10:30am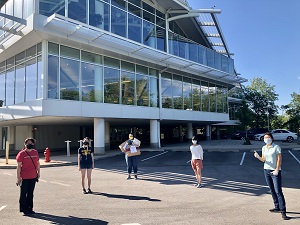 Appearing in the photo (left to right) Tracy Liang, Catherine Peng, Kate Hall, Tong Chen, Wei Zhang
Kate Hall had her hands full yesterday, holding the generous donation of disposable face masks from members of the Glenbrook Chinese American Community, a group of friends, neighbors, and volunteers who have donated 10,000 masks to people and organizations around the community since March.
With the addition of some extra masks from Catherine Peng, a Glenbrook North sophomore, the group donated a total of 725 masks to the library. Catherine, a member of the GBN Debate team, said she misses the library and looks forward to using the study rooms again.
The group started by collecting donations of extra masks from local Chinese families and then began raising funds to purchase additional masks through suppliers, "which wasn't easy" said Wei Zhang, who had originally reached out to the library. "We had to cancel one order and place another when the first supplier was not able to meet the order."
The group said they feel strongly that the library is an important part of the community.
"We appreciate the generous donation, and we thank the members of the group and the local Chinese community for their thoughtfulness and support," says Executive Director, Kate Hall.
In addition to the library, the group has donated masks to area hospitals, police and fire departments, senior living facilities, and individuals in the community.