Friday, May 1, 2020 - 9:00am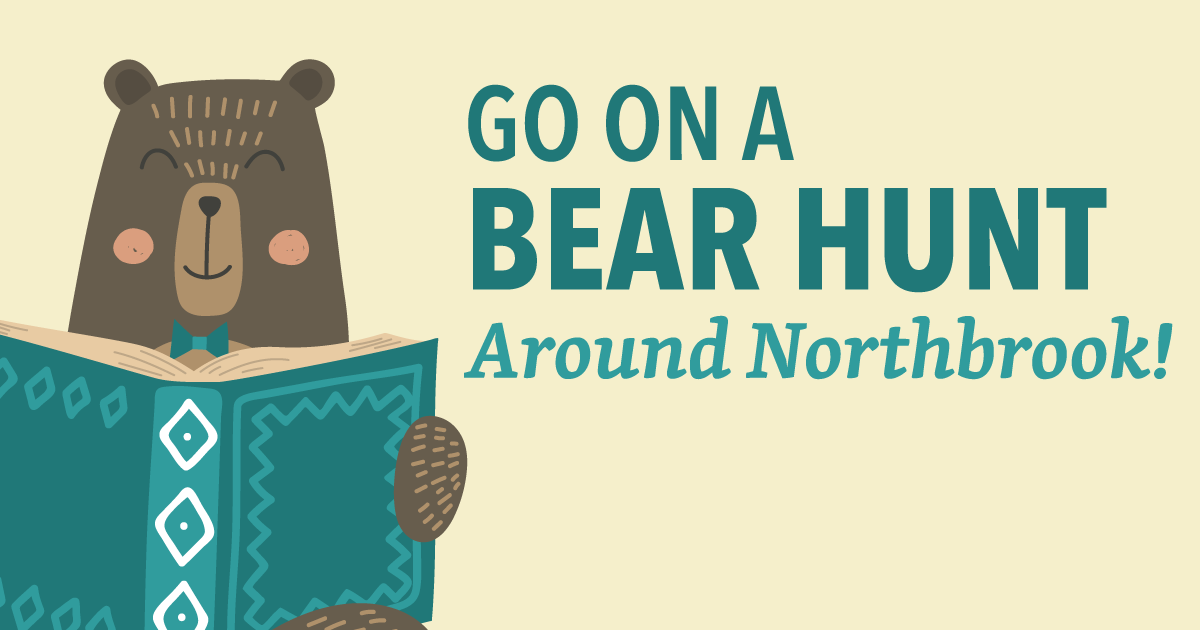 Librarian Anna Fillmore at the Northbrook Public Library wants to "turn social isolation on its head" by transforming neighborhood walks into playful adventures with a Community Bear Hunt starting in May.
"It's a simple idea that asks residents to place a bear in their window for children walking by to enjoy. If you don't have a teddy bear handy, you can print a coloring page or a full-color version of the bear from the Northbrook Bear Hunt at www.northbrook.info/bearhunt," she explains.
"A community bear hunt gives us all a way to connect with each other in a fun and meaningful way, even when we're being socially distant. I like to imagine all of the smiles and excitement and conversations among families walking or driving by, looking for bears," she says.
When staff from the Village of Northbrook and the Northbrook Park District heard about the Community Bear Hunt, they agreed. "It's another way that we can unite the community and show that we're #NorthbrookStrong" says Kylie Cerk, Communications Specialist for the Village of Northbrook.
Joy Stuart, Marketing and Communications Manager of the Northbrook Park District says "We're looking forward to bears making surprise appearances around our parks and facilities and in our Connect-2-Play virtual programs too. It's a fun way to tie the bear hunt into our community activities."
The Origin of the Community Bear Hunt
In this time of physical distancing, Bear Hunts are uniting communities around the world by channeling the joy of the beloved children's book We're Going on a Bear Hunt by Michael Rosen into a fun outdoor activity.
Anna is not sure where the Bear Hunt idea originated. "It seems to have spread organically, with people jumping on board in various communities. It is such a positive way to respond to our strange and peculiar new lives," she says.
For children, it is a new game that acknowledges these new circumstances and uses them to engage both children and adults in creative and playful ways. It says "I can't be with you physically, but I am still communicating and playing with you. You may not be seeing me, but we are still neighbors experiencing the same things." It also facilitates playful and imaginative, open-ended conversations with small children, which is a crucial foundation of reading.
She explains that besides being fun, "this type of activity has many benefits for a child's early development, including "forming and reinforcing playful relationships, building observation skills, identifying colors, shapes, and objects, and possibly even spinning imaginative tales."
We Hope You Will Join Us on the Bear Hunt
To learn more about the Northbrook Community Bear Hunt, print out a bear to place in your window, or even watch a video of author Michael Rosen reading We're Going on a Bear Hunt, visit www.northbrook.info/bearhunt.
Share Your Bear
The public is encouraged to tag a photo of their bear with #NorthbrookBearHunt and share it with the Library, Park District, and Village on social media.
Spot a Bear ... They're Everywhere
Besides making appearances around town, bears will be making surprise appearances in social media posts and in some of the virtual programs from the Library and Park District. The Northbrook Bear Hunt is happening everywhere!