Current Safety Guidelines

In light of the rise of Omicron variant cases and Cook County's latest guidelines, we have updated our COVID policy to keep our staff and patrons safe. These changes took effect January 3:
Masks must be worn in all areas of the library, including study rooms by visitors ages 2 and up, regardless of vaccination status. If you do not have a mask, one will be provided.
Food is no longer allowed in the library, but covered drinks are still allowed.
Visitors do not need to show proof of vaccination to enter the building, but they are strongly encouraged to be vaccinated, and if eligible, boosted.
See our library service updates
COVID-19 Library Action Plan
We are currently in Phase 5 of our COVID-19 Library Action Plan.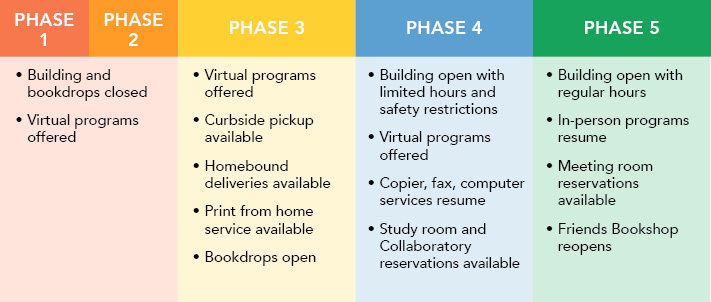 If you have questions or feedback, please contact us at feedback@northbrook.info or 847-272-6224.