Our COVID-19 Library Action Plan
We look forward to restoring our services with safety at the forefront of our decisions. To ensure safety, we have developed a phased approach to restoring our services that aligns closely with the governor's Restore Illinois plan.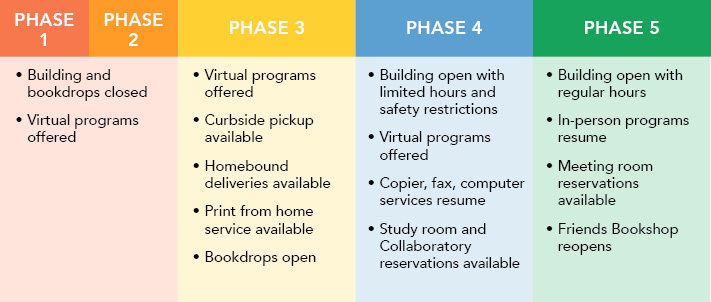 Current Phase
We will be moving to Phase 5 of our COVID-19 Library Action Plan on June 11. In this phase, you are able to visit for up to two hours for browsing and checking out materials in all departments and using a computer, study room, or the Collaboratory by appointment.
Coming soon: Starting July 1, you will be able to make an appointment to use a meeting room in September and October. Starting July 2, we will begin accepting book donations. Learn more about the library services currently available to you.
We are currently limiting the maximum number of visitors in the building to 200 for visits of two hours or less. Masks are still required in the building and at in-person library programs for everyone age 2 and up. If you are unable to wear one due to a medical condition, we can provide remote services, including curbside pickup and homebound delivery. Please read the other safety measures you will be expected to follow while in the building.
If you have questions or feedback, please contact us at feedback@northbrook.info or 847-272-6224.