Our COVID-19 Library Action Plan
We look forward to restoring our services with safety at the forefront of our decisions. To ensure safety, we have developed a phased approach to restoring our services that aligns closely with the governor's Restore Illinois plan.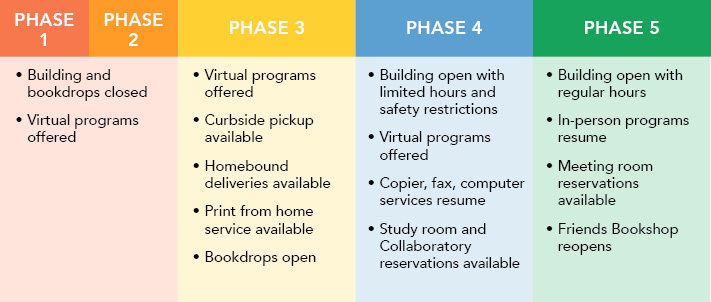 Current Phase
We are currently in Phase 4 of our COVID-19 Library Action Plan. In this phase, you are able to visit for limited "grab & go" services, including browsing and checking out materials, picking up holds, and print/copy/fax. You can use the Internet station on the 2nd floor for quick printing and look-ups (15-minute time limit; no appointment needed), and schedule an appointment to use a computer, study room, and the Collaboratory. Learn more about the library services currently available to you.
To help maintain physical distancing, we are limiting the maximum number of patrons in the building to 100 and we are limiting visits to one hour or less. If we are at capacity, there may be a wait to enter.
Everyone ages 2 and up must wear a mask while in the building. If you are unable to wear one due to a medical condition, we can provide remote services, including curbside pickup and homebound delivery. Please read the other safety measures you will be expected to follow while in the building.
If you have questions or feedback, please contact us at feedback@northbrook.info or 847-272-6224.