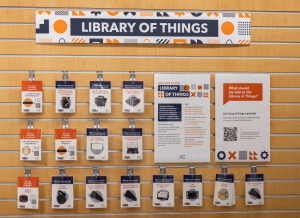 Located in the lobby, our Library of Things is a collection of non-traditional items you can check out and take home, including binoculars in our Nature Backpack, a 16' inflatable outdoor movie screen, or a hotspot to have WiFi access wherever you need it. If you see an item you'd like to borrow, please take the item's card to the Welcome desk. If you see an orange card, the item has already been checked out and is not currently available. You can scan the QR code with your phone's camera to place a hold on the item or ask staff to help you place a hold.
What would you like us to add to the Library of Things? Let us know.
Frequently Asked Questions
How long are items checked out?
Each item is checked out for 3 weeks and will automatically renew unless there are holds on it.
Do I need a Northbrook Library card to check out an item?
You can check these items out with any valid library card.
Can I put a hold on these items?
Yes, you can find these items in our catalog, or scan the QR code found on the item's card to place a hold on it.
How do I return an item from the Library of Things?
Please return the item to the Welcome desk in the lobby, unless noted otherwise.
Current Items in the Library of Things
Click any item below to find it in our catalog.
Assistive Devices
Digitization
Entertainment & Education
Home Improvement
Musical Instruments
Outdoors
Nature Backpack with binoculars & magnifying glass
Projection