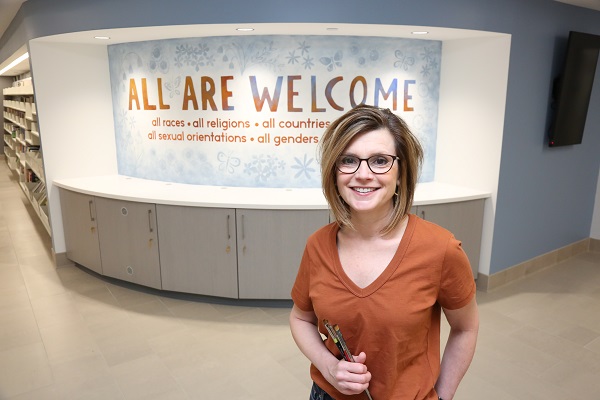 Artist Bonnie Lecat stands in front of the library's All Are Welcome mural
It started with an idea that grew into a mural. The library's "All Are Welcome" statement reflects its goal of being a more equitable, diverse, and inclusive place for all.
One of the library's core values is inclusion, and it strives to be welcoming and respectful of people's different identities, including race, ethnicity, sexual orientation, religion, ability, language, and more.
Championed by its Board, the library's Equity, Diversity, Inclusion (EDI) Committee suggested incorporating the inclusion statement into the lobby remodel project. This idea eventually grew into a vision of a mural that would welcome visitors into the building.
After meeting to come up with some basic concepts, staff selected Northbrook artist Bonnie Lecat to design and paint the mural in the library's lobby. Bonnie is an artist, teacher, and lifelong learner, as well as a Northbrook Library patron.
Bonnie collaborated with library staff to create a design that would infuse the power of the written statement with design elements that reflected Northbrook's prairie roots.
"I was inspired by some of the photos I've taken while walking in Techny Prairie," said Bonnie. "You may recognize Monarch and Tiger Swallowtail butterflies, as well as local wildflowers like Lily of the Valley and Phlox in the design."
"I'm honored to be a part of this project. I feel very fortunate to belong to a community that prioritizes inclusion and diversity."
Kate Hall said she is pleased with the way the mural brings a warm and welcome feeling to the space.
Read more about the library's commitment to EDI. Learn more about Bonnie Lecat and her art.