---
Search
Access the catalog here.
A search box appears at the top of every page. Limit your search to Northbrook Public Library, eBooks & eAudiobooks, All Member Libraries, or search Everything. Then select a field (keyword, title, author, etc.,).


Narrow Your Search
Use the facets on the left to narrow your search results by fiction/nonfiction, format, audience, subject, publication date, and more.

Place a Hold, Email, Text It To Me
Locate titles of interest and click the Place a Hold button to reserve an individual title.

To select more than one item, click the checkbox next to each one in the results list. From the Select an Action menu at the top of the search screen, choose to place holds, email the list, or text it to yourself: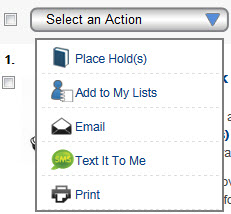 ---
Sign In & View Your Account
Click the Log in to Your Account button or the Log In link at the top of the screen. Sign in with your 14-digit library card number and your password. Sorry, usernames are no longer accepted.
Never changed your password? It's patron.
The My Account link at the top of the sreen will display your information. View your checkouts, holds, fines, and to change your password by clicking the appropriate tabs.
eBooks & eAudiobooks from 3M and My Media Mall are integrated into the catalog.
eTitle checkouts appear under Digital Checkouts. You may return 3M eBooks in the Digital Checkouts tab.
Physical items (books, DVDs, CDs, etc.,) appear under Library Checkouts.
Pay Fines
Click the Fines tab in the My Account screen to pay with your credit or debit card.

Turn on Your Checkout History!
Go to My Account and click the Personal Information tab.
Click Preferences. Check both boxes below and click the Update button.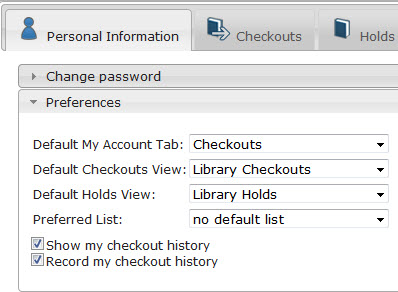 Your history will appear under the Checkouts tab, starting from the time
you turn on the feature. Checkouts are retained for a rolling 2-years.
---
Renew a Title
To renew, log in and click My Account. Click the Checkouts tab.

Click the checkbox next to each title you wish to renew.

Click the Renew button.
---
Cancel or Suspend Holds
To cancel a hold, click on the Holds tab under My Account. Select the hold(s) you wish to cancel. Click the Cancel Holds button.
To suspend a hold, select the hold(s) to suspend and click Suspend Holds. Select your start date and your finish date from the mini calendar.
To unsuspend a hold, select the suspended hold(s) and click Cancel Hold Suspensions.
Create Lists
Log in and click My Lists. Click and name your list. Add titles to your list by checking the box next to one or more titles and selecting Add to My Lists from the menu at the top of the search results. All lists are private.
Delete a list by going into My Lists and selecting the list to delete, then click
If you had Shelves that migrated over from the old catalog, they were renamed:
My Completed is now Past
In Progress is now Present
For Later is now Future