Thursday, February 22, 2018 - 1:15pm
Planning an outing for the whole family isn't easy for Liz Wang.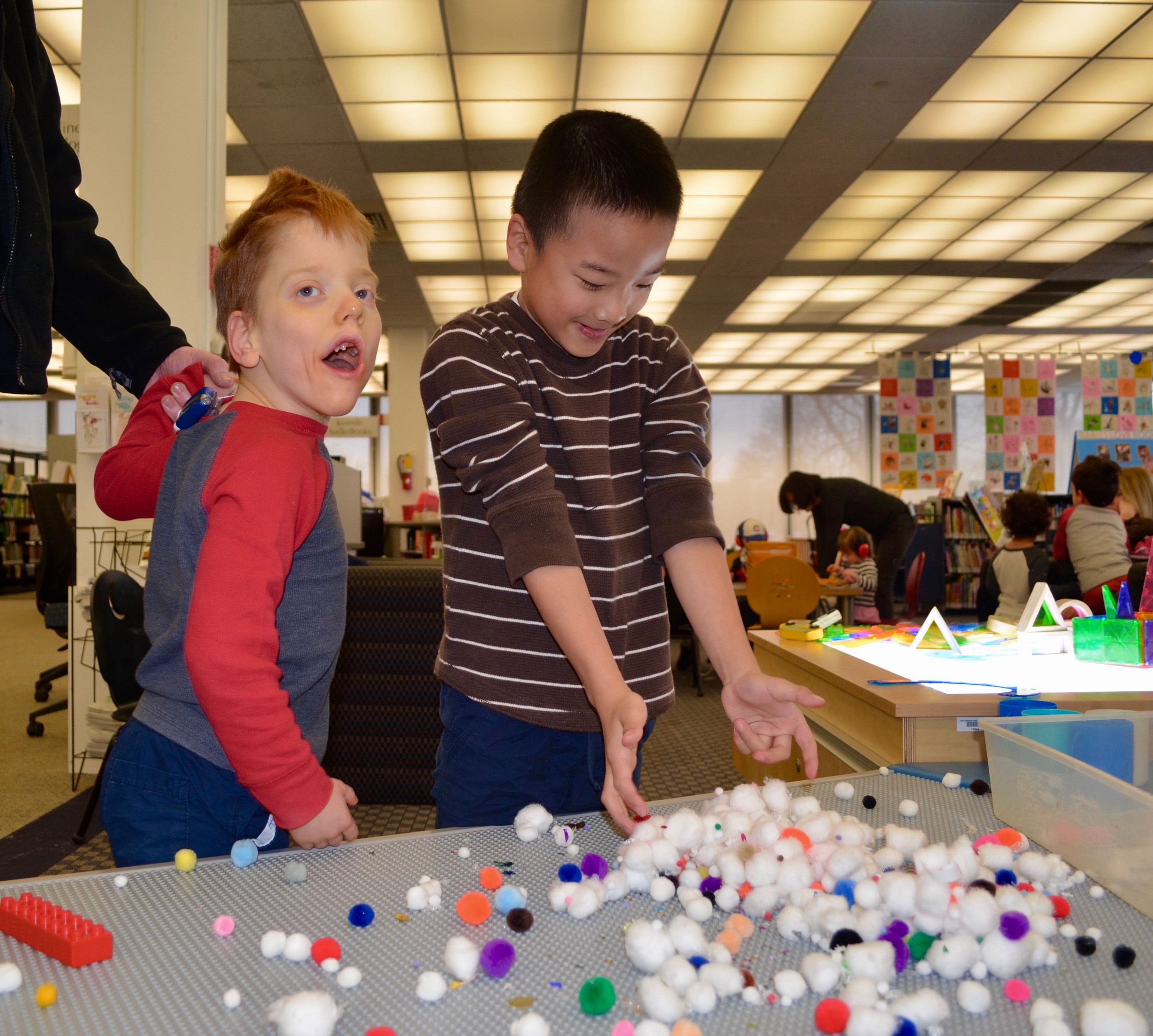 "We tend to be home a lot; it's hard to do community outings," said the Northbrook mother of three young children. "Story Hour [at the library] doesn't really work. We try to attend as as family, but it's tough."
Aiden, her second grade son, has autism and needs special tools to feel comfortable and focus.
Fortunately, last March, when the library began organizing Accessibility Hour and other sensory-friendly family events, the Wangs immediately noticed that Aiden was participating and enjoying his time.
During Accessibility Hour, families with special needs are invited to visit the library one hour before the regular opening to tour the building, check out materials, and participate in sensory-friendly activities. The next Accessibility Hour is coming up on Sunday, March 11 at 12:00pm.
"It's so nice to have Accessibility Hour and that we could come as a family, because otherwise there's so much pressure," Liz said. "It's just nice that it's specifically for [Aiden]. It's nice to have that time. He likes to run around … I didn't feel as guilty and he felt comfortable, too, and had a sense of being able to fit in."
During one sensory-friendly event, the library had set up a workstation including beans in containers.
"[Aiden] loved that," she said. "He brought up the beans a week later. It's nice to know that he has a positive experience here."
Like Liz, the Keddy family says the accessibility programs have brought about meaningful experiences and quality bonding time.
"I especially love that it is our local library offering these programs," Stephanie said. "I grew up reading and studying in libraries. I love that the library is growing and evolving to offer programs that encompass its special needs patrons."
Creating programs that enable families to use the library and participate in activities together was the impetus behind Accessibility Hour, said Sarah Rustman, School and Special Services Librarian.
"So much of the week for families consists of children in all kinds of activities or therapies that don't involve parent participation," Sarah said. "I wanted Accessibility Hour to bridge that gap and provide a program that creates memories for the whole family. I get to see children with special needs, siblings, and parents all having new experiences together; whether it be exploring the library, using a sensory box, or participating in a program and that warms my heart each and every time."
Stephanie and Tom's seven-year-old son Declan has a cochlear implant and uses a wheelchair. The accessibility programs provides her family with "wonderful community-based events that are geared specifically to special needs kids."
"These type of programs are very hard to find," said Stephanie, who also has a four-year-old daughter. "We can come together as a family to learn and have fun in a calm, relaxed environment free from judgment."
As parents of a child with special needs, it's important to help Declan meet new challenges and "not put limits," Tom said.
Declan and his family particularly enjoy Sensory Storytimes and Special Needs Yoga.
"And as a result of that he takes yoga classes now because he was so good in that [Special Needs Yoga] class," Tom said.
The library offers additional resources for families with special needs, from its special needs collection to discovery skills kits to electronic Playaway launchpads. For more information about these resources, please reach out to Sarah at srustman@northbrook.info or 847-272-4192.
Photo caption: Declan (left), 7, and Aiden (right), 7, both of Northbrook, spend time enjoying sensory-friendly box materials.