Monday, February 27, 2017 - 2:00pm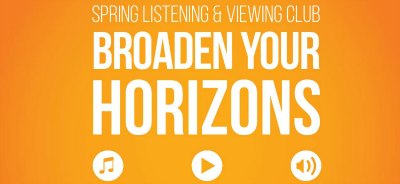 Now that Winter Reading Club has officially come to a close, we are happy to announce that Spring Listening & Viewing Club has begun! From March 1 to May 31, Spring Listening & Viewing Club participants can earn chances to win prizes by watching movies and listening to music and audiobooks.
Sign up in the MultiMedia department to pick up your logand get started. If you are one of the first 300 participants, you'll receive a special sign up gift for joining Spring Listening & Viewing Club. Once you have signed up, any movie, audiobook, or album you check out from the Library's collection—including audiobooks and movies found on downloadable services like Hoopla or My Media Mall—counts as an entry on your listening and viewing log.
All club participants are eligible for weekly drawings, as well as entries to win the Grand Prize, so make sure you stop by the Library often!