Monday, March 28, 2022 - 11:15am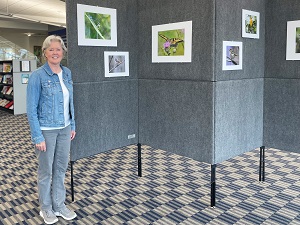 Inspired by Northbrook's Somme Prairie Grove, local photographer Lisa Musgrave enjoys photographing the nature that surrounds her. You can see her awe-inspiring photos now through April 30 on the library's 2nd floor. Whether photographing the fungi at Somme Woods or a Red-tailed Hawk in Somme Prairie Grove, Lisa's photos capture the exquisite and fragile beauty of the ecosystem we live in.
But what inspired Lisa most was learning that she could help the local ecosystem. She volunteers her time removing invasive species such as buckthorn and garlic mustard. This helps to restore native plants, insects, and birds. These efforts "bring sunlight back to the forest floor and give our majestic oaks some breathing room," she explains.
The Somme Preserves in Northbrook progress from shaded woodland to sun-dappled savanna to wide-open prairie. Pioneering habitat restoration efforts started here in the 1970s and continue today with volunteers like Lisa.
If you are inspired by Lisa's photographs, we encourage you to register for her upcoming program for her tips for taking photos of plants, insects, and birds using basic equipment.
Nature-Inspired Photography
Monday, April 18
7:00-8:00pm (Virtual)
Advance registration required
---
The "Nature in Your Backyard Series" was presented in partnership with Northbrook Public Library, Go Green Northbrook, and the Northbrook Garden Club.