Wednesday, August 30, 2017 - 1:30pm
The Fall Listening & Viewing Club, which starts September 1 and goes through October 31, is back with a local theme.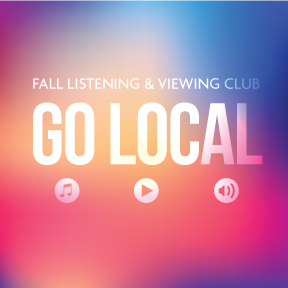 Stop by the library to sign up for the club and pick up the Fall Listening & Viewing Club's "Go Local" log. Then enjoy movies, books, and music that have a Chicago connection. The first 300 participants to sign up will receive a special sign-up bonus gift.
Participants must complete at least one log (4 titles) to be eligible for the weekly raffle and grand prize drawings to win an iPod or a Blu-Ray Disc player. Music, book, audiobook and movie titles all count toward eligibility.
You can check out materials from the Fiction & Media Department or stream from Hoopla.
Need help finding titles with a local connection? Visit the Fiction & Media desk on the third floor for suggestions. There'll be a book display featuring "Go Local" club recommendations as well. Enjoy!