Thursday, April 16, 2020 - 3:00pm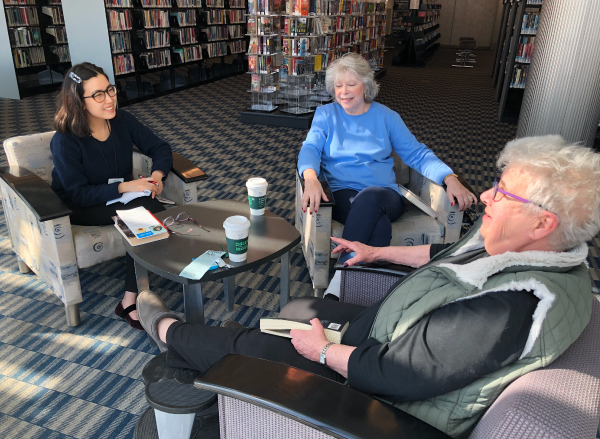 Linda and Renee were interviewed by Jane Huh in their favorite reading spot on the third floor on February 28.
These days, Linda Wine and Renee Weber can only wave at each other through a window, maintaining a wide, safe distance.
They've been friends for more than 60 years, beginning in grammar school in Chicago. And for the past six years, Linda and Renee had been meeting at a corner near the large print section on the library's third floor.
"We talk and read; it's very therapeutic," Linda said.
Renee adds: "This is the best library. It's so nice to be here in the sun and just read. Looking out at the little stream here with the ducks and the grass … it's a wonderful setting."
But in mid-March, their weekly meetings at the library came to an abrupt end when many public buildings began closures to prevent the spread of the novel coronavirus.
Linda, a book collector who ran a bookshop in Glencoe for 12 years, maintains a personal stockpile of books of her own. Since the closure, she and Renee, a former special education teaching assistant, have been trading bags of books at Linda's front door.
"We miss our Fridays at the Northbrook Library," said Linda on the phone in mid-March. "We make sure we stay at a safe distance and leave the books on our front porches to make the exchanges."
Linda is partial to Victorian novels and nonfiction. Renee tends to go for mystery and thrillers. The two talk often on the phone and to check in on each other and share book reviews.
Linda and Renee are glad their passion for devouring good books has kept them busy while indoors and that they can continue to still communicate with each other during these uncertain times.
With so many everyday routines upended, Linda misses seeing her children and grandchildren in person the most. She said she dons her mask and gloves when she goes grocery shopping. Reading, watching documentaries with her husband and staying in close touch with Renee offers her comfort. She might even take up knitting again. For exercise, she's "walking back and forth in my hallway for 20 minutes a day while I listen to books on tape.
"Right now I am catching up on my classics like Charles Dickens. I'm not too obsessed with reading, am I?" she jokes.
Renee usually reads for six to seven hours a day. At the end of that she takes her dogs out for a walk around the block and by then it's dinner time. Her children who live in the area shop for her and drop off the groceries at the door. Her current book stack includes Writers & Lovers by Lily King; Stitches, a graphic novel by David Small, and Breaking the Silence by Diane Chamberlain. She's also enjoyed Netflix shows like The Stranger and Unorthodox.
Before the library closure, we spoke with Linda and Renee at their special spot on the third floor. The women talked about how much their friendship meant to each of them.
"When you get old you realize friends and family are all you have," Renee said. "So use that time wisely."
Linda: "Renee has been a wonderful friend. Whenever I've been sick, she brought me chicken soup from Max's. We both had our share of that…"
Renee: You are [a wonderful friend, too]. Don't make me cry."
---
Do you have a library story that you'd like to share? Email us to let us know and we might feature you in a patron story like this one.