Wednesday, January 17, 2018 - 11:00am
Since late August, the Northbrook Public Library has been receiving clerical help from a couple student workers.
James Pujals, or JC, and Karin McDonald are students with the Northern Suburban Special Education District (NSSED), a special education cooperative that provides programs, services, coaching, and consultation to enable students become independent and successful.
Over the course of the semester, Stephanie Galindez, an employment specialist for NSSED, has seen a lot of growth and independence in JC, 18, and Karin, 17, as they worked and interacted with staff. Youth Services Librarian Sarah Rustman often collaborated with JC and Karin.
"Karin's smile lights up a room and JC's jokes always had me laughing," Sarah said. "I looked forward to every morning I got to see them and I really will miss them."
The NSSED has partnered with the library for more than 15 years, Stephanie said. Part of her job is to train students in community-based jobs to help the students obtain paid employment. NSSED and the library work together to adapt the students' work environment to train and empower them to succeed in their future employment.
"The work that the students do while job training in the community, specifically the library, teaches them assorted job skills that can be transferred to different work environments," Stephanie said. "Volunteering at the library also can further develop the students' soft skills, and communication skills with staff and patrons."
Likewise, the library gains many valuable benefits from working with NSSED students, Sarah said.
"We are lucky enough to get to work with NSSED students of all abilities and that makes the library a better place for everyone," Sarah said. "NSSED has a number of employment placement locations where students go, and I feel honored that we get to be one of them. We gain needed assistance on tasks and they gain valuable work experience which is a great exchange."
The library thanks JC and Karin for a job well done this semester, and thanks the NSSED for their dedication.

MEET KARIN & JC
What is your favorite part of volunteering at the library?
Karin: Stamping RAILS sheets.
JC: Stamping RAILS sheets.
What brings you to the library when you're not volunteering?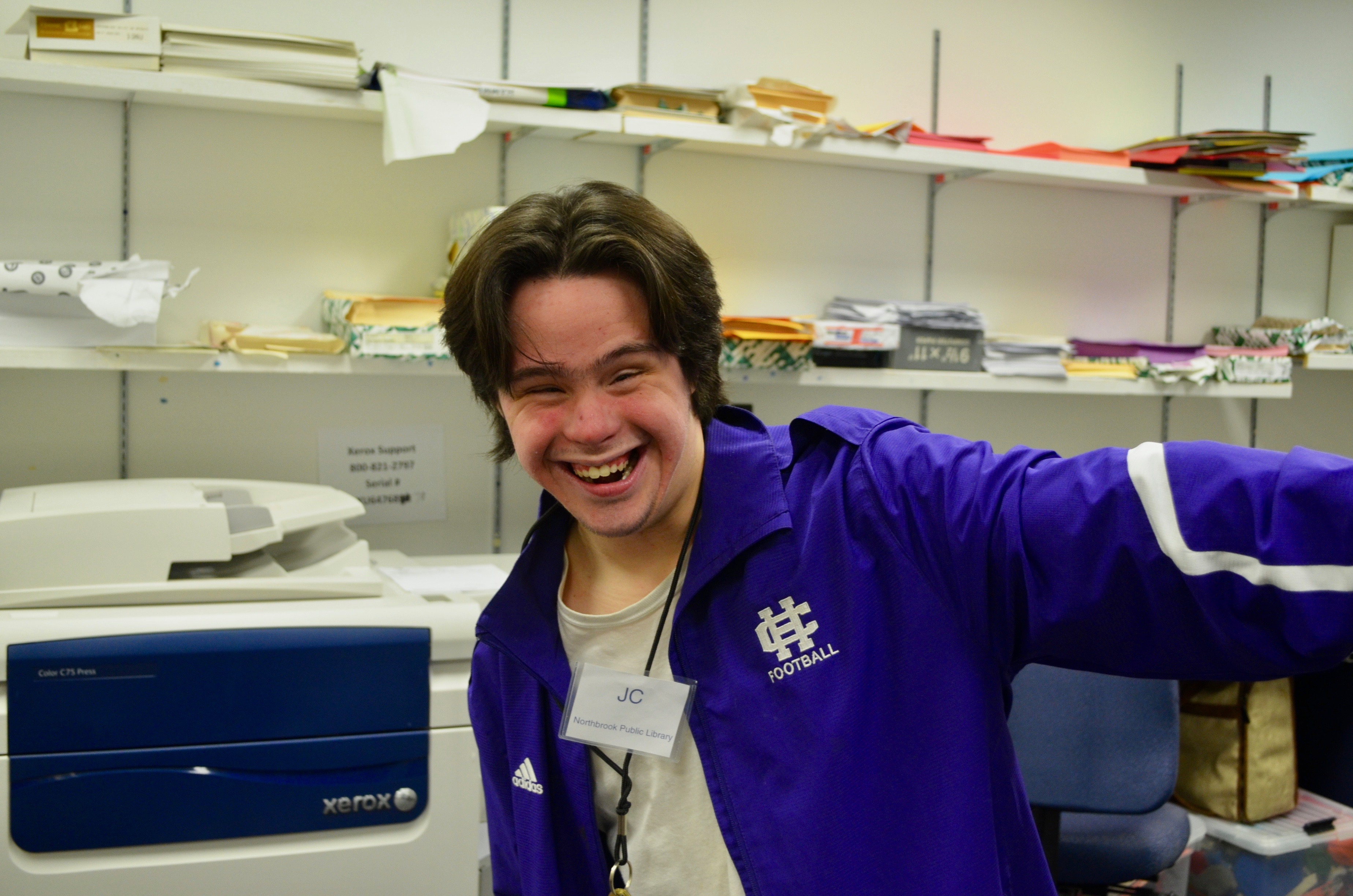 Karin: I like reading.
JC: To spend time with my family. I used to come a lot with my mom.
What are you currently reading, watching or listening to?
Karin: I listen to Keith Urban.
JC: I am watching football, Castle and Friends.
Fun fact about yourself?
Karin: I like to dance.
JC: I can sing, dance, and play the guitar.