Wednesday, August 30, 2017 - 3:00pm
Explore the mesmerizing world of improvised and avant-garde music at the Northbrook Public Library.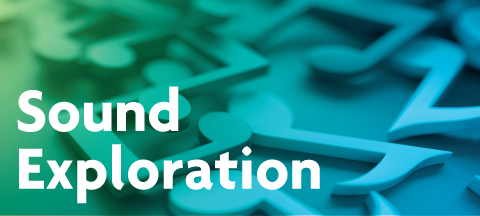 The musicians featured in this new Sound Exploration series apply a wide range of experimental, unconventional methods—from using cue cards and lightboxes to manipulating acoustic instruments to produce abstract sounds—to create uniquely spontaneous music compositions.
The library already organizes a variety of music programs and concerts ranging in genres like jazz, classical and rock. The Sound Exploration series, free and open to the public, will offer something new and different for patrons. Each performance, all taking place in the Auditorium, will feature brief introductions about the musical performance and time for Q&A. Attendees will learn about and experience some of the exciting avant-garde work currently being done in modern composition, improvisation, and multimedia performance.
"For this series, we wanted to present genres and musicians that we have not had before," said Susan Wolf, Reference Department Manager and series co-coordinator. "We hope that patrons who regularly attend our music programs will also come to this series. We also hope that by offering something different, we will welcome new audience members as well."
Kicking off Sound Exploration is a concert with Rafael Toral (electronics), Mars Williams (saxophone), and Tim Daisy (drums) presented in partnership with Chicago-based Experimental Sound Studio on Saturday, September 16, at 3 p.m. These accomplished musicians will be creating completely spontaneous and unrehearsed musical improvisations. The Experimental Sound Studio is a non-profit, artist-run organization that focuses on sound "in all its exploratory cultural manifestations, including music, sound art, installation, cinema, performing arts, sound poetry, broadcast, new media, and more."
Fred Lonberg-Holm's Lightbox Orchestra is slated for Saturday, September 23, at 3 p.m. Lonberg-Holm is cellist who plays in a variety of genres including jazz and improvisation. For this concert, Lonberg-Holm will conduct his Lightbox Orchestra, a rotating ensemble of local improvisers, who will be playing without a score following signals from the lightbox and cue cards.

NbN Trio will close out the series on Thursday, October 26, at 7 p.m. As an experimental improvisation group, NbN Trio explores sound through creative manipulation of acoustic instruments. The trio will perform an improvised work with violin, cello and the interior of a piano as well as an original work composed by trio member Nomi Epstein.