Wednesday, January 29, 2020 - 1:30pm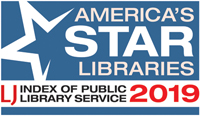 We are proud to announce that we have been awarded a 5-Star Rating by the Library Journal Index of Public Library Service. LJ's Star Library Ratings spotlight the best of the best across America.
Star ratings are awarded based on the five major ways patrons use the library:
Visits to the library
Items checked out
Usage of electronic materials
Attendance at library programs
Public Internet computer use and Wi-Fi sessions
Each of these performance indicators is calculated using per capita rates to offer a measurement of the library's service to the community compared with peer libraries that have a similar amount of funding. As a result, receiving a star rating means that the library delivers a strong return on investment to its community.
Of the 6,333 U.S. public libraries scored on the LJ Index, only 85 were designated as 5-Star Libraries, and based on these performance indicators, Northbrook Public Library placed in the top ten nationwide in its budget category.
"As a library, we reflect the needs and interests of community in our collection and the many programs and services we provide. Receiving this 5-Star Rating shows that our community is utilizing all that we have to offer," says Executive Director, Kate Hall.
See Star Libraries on the map.
About the Library Journal
Library Journal is a trade publication for librarians founded in 1876 by Melvil Dewey.