Wednesday, March 3, 2021 - 12:30pm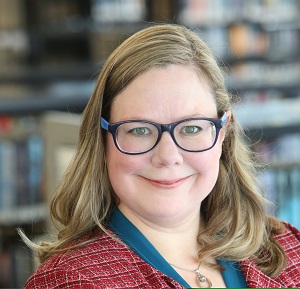 We are pleased to announce Kelly Durov as our Assistant Director. Prior to her new role, Durov served as the library's Youth Services Manager for five years.
"Kelly's background and extensive management experience showcase her commitment to building community-centric libraries that support staff and bring innovative programs and services to residents," said Kate Hall, the library's Executive Director. "I look forward to working side by side with her to continue the strong tradition of excellence that the Northbrook Public Library is known for."
Durov calls Northbrook Public Library an "amazing place to work" and looks forward to being involved in high-level planning and goal setting to ensure that our library is managing our resources and serving the people of Northbrook as best we can.
"I have learned so much about building community partnerships, analyzing data to make decisions, using technology to further our mission, and creating innovative programs, services, and collections that will all be skills that I bring to the role of Assistant Director," she said.
Her career in library leadership spans 20 years. Before coming to Northbrook, she was the Children's Services Manager for the Park Ridge Public Library for five years.
Durov, who has a Masters of Library and Information Science from Dominican University, began her library career at the Hinsdale Public Library before moving into management and supervisory roles at Orland Park and LaGrange public libraries.
Throughout her public library career, she's earned grants and professional recognition for her expertise in topics such as STEM education, special needs, and collections management.
Given the ongoing challenges of operating the library during the COVID-19 pandemic, Durov sees safety and security for both patrons and staff as a top priority and will be "front of mind for the foreseeable future."
Equally important is the library's ongoing commitment to equity, diversity, and inclusion and making sure we're working towards being as welcoming and inclusive to all our patrons, she said.
"Examining our current practices and future plans to ensure we are including an EDI lens will be a main focus this year."
One of the driving factors in her decision-making process is patron feedback, Durov said. She welcomes patrons to reach out.
Durov, who lives with her two kids, husband, and a dog, enjoys reading children's literature with her family.
"Because I have small kids (a 2nd grader and a 3-year-old), I am excited that I still have an excuse to read my favorite types of books, children's literature, for the next several years even though I am leaving my role as Youth Services Manager."