Tuesday, August 9, 2022 - 12:15pm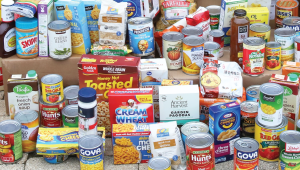 Help Stock the Shelves of the Northfield Township Food Pantry
From September 1-30, please drop off non-perishable food donations in cans, plastic containers, or boxes in our lobby to help support local families in need.
What types of donations can be dropped off?
The pantry is currently very low on or out of these important necessities:
Canned soup (#1 needed item )
Canned fruit
Oatmeal
Canned chicken
The pantry is also low on these important items
Coffee/tea, juice/juice boxes (100% preferred)
Pancake mix
Beef stew
Pasta with meat
Chili
Tomato sauce/paste/diced
Plain pasta
Applesauce
Plain rice/rice mixes
We'll bring all items collected to the Northfield Township Food Pantry in early October.
What happened to Food for Fines?
We became a Fine Free library in April of 2020, so because we no longer charge fines for overdue items, there is no longer a need for "Food for Fines." Even though it's no longer necessary to bring in donations to erase fines, we hope you will still consider donating to help local families in need.
About the Northfield Township Food Pantry
The Northfield Township Food Pantry was established almost 50 years ago. Today, many hundreds of Township families are eligible to visit the Pantry. The Pantry is sustained entirely by residents, civic organizations, schools, businesses, and the faith community who generously donate food items, grocery store cards, and cash.