Saturday, July 20, 2019 - 9:15am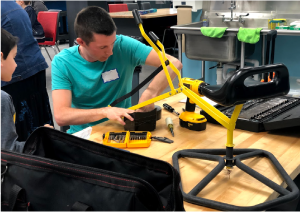 "When we put out the call for broken items to the public, we really weren't sure how many we'd get," said Cathleen Doyle, Digital Services Manager. "We kept the rules pretty simple: the item must be small enough for you to carry and don't bring in anything dangerous," she said. "Our goal for Northbrook Repairs was to keep as many of these items from ending up in our landfills by helping people to repair them."
As it turned out, the inaugural Northbrook Repairs event held at the library in May 2019 was a resounding success. Throughout the day, volunteers and library staff helped to fix 59 items brought in by the public, including 12 bikes, 9 pieces of clothing, 3 chairs, one fan, a Keurig, a sewing machine, an electric toothbrush, and many, many lamps.
One of the volunteers that day, Scott Hargis, had recently moved to Northbrook with his wife and was looking for ways to get involved with their new community. He learned about Northbrook Repairs while browsing the library's website. The library was asking for volunteers to help fix broken items, and Scott saw an opportunity to help.
"As a child, I enjoyed taking things apart and learning how they worked," he said. "As a mechanical engineer, my job is to put things together both in the literal sense, product design and project management."
Scott's first visit to the library was for Northbrook Repairs. When he arrived, ready to help fix a random array of items from the public, he was taken up to the "impressive" Collaboratory, the library's makerspace, where stations were set up for volunteers.
Located on the library's second floor, the Collaboratory encourages exploration, creativity, design, and building, using a variety of media tools, technology, and objects. This space, which opened to the public in 2018, offers makers working on projects—whether high-tech, low-tech, or no-tech—access to an array of equipment, tools, knowledge, and support.
At first, Scott and other Northbrook Repairs volunteers weren't quite sure what to expect. Then, Scott faced his first challenge when a boy walked in with a broken mechanical shovel.
"The shovel was broken off and could not be attached in the same location. With the boy's help, we found a new location, marked and drilled new holes and reattached the shovel with screws," he said. "It was a great experience and it showed the boy that not everything made today is disposable, and even broken things can be fixed."