Monday, June 1, 2020 - 4:00pm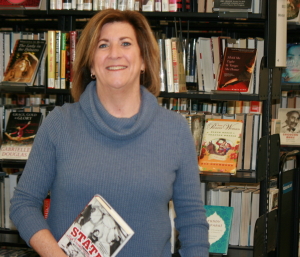 Register in advance to hear Melissa discuss her latest book, State: A Team, A Triumph, A Transformation in a live online format on Friday, June 5 at 2:00pm
Melissa Isaacson, a longtime Northbrook resident, vividly remembers what it was like for her and her Niles West High School teammates to receive uniforms for the first time.
And the uniforms weren't even exclusively theirs. They had to share the thick polyester, logoless outfits with all the different girls' teams at her school. Looking back, the uniforms were "awful," she said. "And yet we thought they might as well be Olympic uniforms.
In spite of that, the student-athletes took great pride in its newfound role, representing the school on the court. Then in 1979, she and her team clinched the state's first girls basketball championship in 1979.
Melissa, an award-winning journalist—she's written for the Chicago Tribune and ESPN—has recently written her third book, State: A Team, A Triumph, A Transformation, which chronicles her journey of pursuing her passion of playing basketball with the backdrop of Title IX, legislation which bars discrimination based on gender in education or any program that receives federal financial assistance. After its 1972 passage, the law established girls' sports programs for athletes like Melissa and her teammates.
Highly endorsed by sports figures like Golden State Warriors coach and former Chicago Bulls player Steve Kerr and tennis icon Billie Jean King, her memoir evokes the innocence of youth, and the feeling that anything was possible. It's also about the unsung heroes in her youth such as coach Arlene Mulder (who eventually serves as Arlington Heights' mayor for five terms), who empowered the girls to achieve their dreams.
In her book, she writes about how her team went from being allowed to practice basketball in the "boys' gym" to years later being at the center of a standing-room only crowd at that same gym.
"As the years went by, things evolved and we enlisted the boys to play with us," she said. "They supported us. The school and town rallied around us at [the state championship game]. The whole township came out."
"We absolutely knew what we were going through was special and that it wasn't something that every girl was experiencing and that we were the first generation of girls to have these opportunities," she said. "We absolutely appreciated it. However, I would've never thought that in 40 years [Title IX compliance] would still be a thing."
Although Title IX opened the doors for many girls and college women, Melissa said "things have really plateaued, sadly."
From not having equal scholarship numbers and some high school teams not being given the same equipment to fighting for equal pay, Title IX compliance remains a troubling issue for girls and women.
"It's a little disappointing and disheartening," she said. "And so it's worth looking back at this period of great hope and great celebration of women."
Melissa, who currently teaches full time at the Medill School of Journalism, said her teammates and other key figures helped her tell the story, sharing all their memories and perspectives.
State is also a very local book as the story takes place throughout Chicagoland.
"We played Glenbrook North and in this book there are several funny stories involving Glenbrook North and Glenbrook South. Names galore. I hope it interests people from farther away, for sure, but certainly for those at home. I hope people enjoy it here."
---
Hear Melissa discuss her book on Friday, June 5 at 2:00pm in a live online format.