Thursday, April 23, 2020 - 4:15pm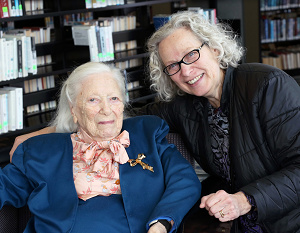 Note: We recently learned that Sarah Brimer, winner of last year's Winter Reading contest and voracious reader who kept a thorough book spreadsheet (read her story below), died at age 103, less than a month ago. Last spring, we had the honor of interviewing Sarah for a newsletter feature, and we were touched and inspired by the stories she shared with us about her life and her wonderful sense of humor. Sarah's daughter Arlene, who is pictured in the photo, spoke with us recently about her mother's passing.
---
A private ceremony was held at Calverton National Cemetery on Long Island, where she is with her husband Moses who had served in the military as an Army major.
Sarah passed away of natural causes, not due to COVID-19.
However, the pandemic certainly altered the family's Jewish ritual of mourning. Instead of opening their home for people to stop by for a weeklong Shiva, "our synagogue had a Zoom Shiva. It allowed friends and family from different time zones to join us," said her daughter Arlene.
Among the Zoom attendees were dear friends, including one living in Israel, to the man who bought Sarah's Long Island home–her home for 55 years–right before she moved to Northbrook to live with Arlene, her son-in-law, and granddaughter, "people who otherwise would never have had the chance to talk and tell stories about her," Arlene said.
"There was lots of talk on the Zoom Shiva about my mom's love of hot dogs, frankfurters, as she called them. You heard about her good habit of eating onions, but I've mused that some of her bad habits might have been the secret to her longevity," she said.
Arlene entered the final book entries into her mother's special spreadsheet of all the mystery titles she's read.
In May 2019 when we published Sarah's feature, she had a tally of 1,450 book titles in her spreadsheet. Now it has 1,633 entries.
"I gathered the library books we still have checked out and entered them in her database,"Arlene said. "I couldn't just put them in the bags to return them without this ritual.
"I still come in from walking our dog in the morning, wanting to tell my mom stories about what's in bloom or who I ran into. Or ask for her opinion. Or make sure she has enough cookies."
---
Sarah's story was first published in the May/June 2019 issue of the library's newsletter. We received many emails about how her story touched lives, and we hope you take a chance to read it, or re-read it, below.
Sarah Brimer, winner of the library's Winter Reading grand prize drawing for an iPad, can finish a book in two days.
Sarah, who moved to Northbrook from New York three years ago to live with her daughter, is 102 years old. She quips that for someone her age, reading is about the only hobby she can indulge in.
"First of all, I'm an old lady. What else can I do? I can't run around the block!"
But her self-deprecating humor belies her fanatical interest in consuming mystery and thriller genres.
Whenever her daughter Arlene stops by to check out books for her mother, she always brings along Sarah's special spreadsheet, a list of all of the mystery books she's read with a column of her general reviews ("good", "bad," "just okay", "eh good").
As of this writing, the spreadsheet has a tally of 1,450 book titles.
"This is all possible because of her," said Sarah, pointing to Arlene, who diligently keeps up with her mother's reading needs.
Back in New York when Sarah was in her early nineties, she began keeping a handwritten list of all the books she read. Later, her library, Jericho Public Library, began offering homebound services for patrons in which the library mails books to patrons.
"She was such a voracious reader that I had to keep a running spreadsheet which we all kept up to date in the office," said Aviva Kane, the reference librarian who started the homebound service at the library. She is now the assistant director of New York's Franklin Square Public Library.
"We created spreadsheets for other homebound patrons, but Sarah's was detailed because she read so much more than everybody else so we wanted to make sure not to have duplication, and I wanted it organized to make sure she got what she wanted."
Sarah's appreciation for libraries goes back nearly a century. She remembers receiving a New York Public Library card when she was six. She learned to enjoy reading from school, where she learned English.
"My parents couldn't read to me," said Sarah. "They came from Poland and only spoke Yiddish."
From early on, Sarah remembers the small yet profound ways the library changed her life. Once when she was young, she wanted to learn how to make kosher pickles. She went to the library to ask for help and a librarian brought her a 19th-century book that taught her exactly how to do so.
"Don't use a regular knife and put the pickles in a glass jar, not metal," she said, recalling what the book taught her.
The secret to longevity
Arlene visits the library regularly to replenish her mother's endless joy of reading. Sarah says Arlene brings her eight books at a time. A few of her favorite mystery authors include David Baldacci, Stuart Woods, J.A. Jance, and Catherine Coulter.
It's not uncommon for Sarah to be asked about her longevity. Aside from her love of reading, she says the secret to reaching her age is "raw onions," which she especially enjoys with her bagels and lox.