Wednesday, August 16, 2017 - 10:45am
Live classical music performances at the Northbrook Public Library just got even better.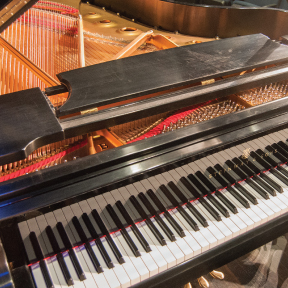 Earlier this summer, the library received a seven-foot, Steinway classic grand piano on a long-term loan. Classical pianist and Steinway artist Susan Merdinger was the first musician to play on the satin-finish Model B piano at a June 4 concert. The Steinway produces "bigger, warmer, richer sounds and has a wider range of dynamics," she said.
The Northbrook Steinway & Sons gallery presented the piano to the library. Diane Duncan, general manager of Steinway & Sons, said this versatile instrument should help draw even more professional musicians to perform at the library and enhance the overall music programming.
"Music education is where we're very much involved that's the focus of the library, too," Duncan said. "So it's a very good match and partnership."
Merdinger and her piano duo partner Irina Feoktistova are slated to launch the 25th season of the Fine Arts Fall series on Sunday, September 10, when they'll perform works by Johannes Brahms. Concerts for the Fine Arts Fall series, which goes through December 17, take place in the library's Auditorium on Sundays at 3 p.m.
"It is a beautiful instrument, an incomparable instrument," said Merdinger, who's been a regular performer at the library since 2008. "It is an amazing win-win-win (for Steinway gallery, the library's patrons and the musicians)."
"This piano opens up so many more possibilities," Merdinger said. "For performers, it's much more enjoyable and gratifying and the library will continue to attract more musicians who seek out this venue as a performance space. I expect the audience will continue to grow."