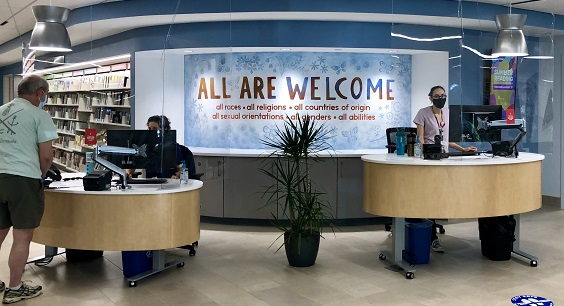 On Monday, June 7, the Northbrook Public Library welcomed the public back into its newly redesigned lobby and returned to its pre-COVID hours of operation after months of renovations and careful planning.
Along with its popular Lucky Day collection, visitors will find several new collections, including one that features popular books and movies for all ages, and one that features items like projectors and hotpots for people to check out and take home.
"After years of feedback from the community on wanting more materials to browse and check out on the first floor we think patrons will be excited about the new collections," said the library's Executive Director, Kate Hall.
Two modular desks that can be adapted to support future needs have replaced the former large stationary Circulation desk to present a warm and inviting ambiance to the new welcome area. In addition, the library has also commissioned Bonnie Lecat, a Northbrook artist, to paint an "All Are Welcome" mural to greet visitors as they enter the building. The mural incorporates the library's inclusion statement, which corresponds to its overarching goal of making it a more equitable, diverse, and inclusive environment for all.
In terms of new technology, the recently completed RFID tagging project is fully integrated with the lobby's new automated sorting machine, which will speed up the time it takes to check in and sort returned items. The RFID tags similarly help speed up the checkout process for patrons who use the new self-checkout machines since it allows patrons to check out multiple items at a time, instead of having to scan each item individually.
Along with the new lobby, the library's open hours also expand to its pre-COVID schedule on June 7.
Monday-Thursday: 9:00am-9:00pm
Friday: 9:00am-6:00pm
Saturday: 9:00am-5:00pm
Sunday: 1:00-5:00pm
More information about the lobby construction project is available at www.northbrook.info/lobby-remodel.