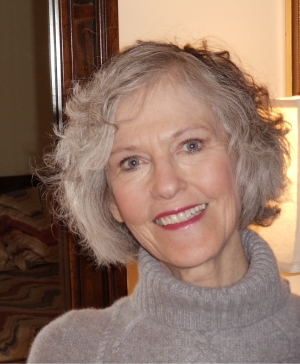 Cheryl Dahlstrand's middle grade fiction, Dream Tiger, sits in the library's Local Collection, a space on the second floor next to the Reference desk. Created by local writers and artists, the materials include novels, nonfiction, short stories, music, scores, and films for patrons to browse and check out.
Where did you get the idea to write Dream Tiger?
I had a curious dream about a tiger that appeared in an unexpected place. Actually, it was more complicated than that. The dream itself was like a puzzle. It created an intriguing little mystery that I was unable to explain or solve. So, I wrote it down.
How long did it take you to complete the work and what was the process like?
After the dream vignette was recorded, the story began to reveal itself. Its mysterious nature suggested the novel's realistic fantasy genre. The menacing tiger had a connection with China, where tigers are rare and wild. Chinese folklore attributed them with magical, healing powers. This provided intriguing multicultural components to enrich the story. My professional experience as a speech language pathologist determined that middle grade students ages nine through 12 years would be the target audience. Because I know Chicago well, scenes were set in Oak Park, the Art Institute, and Chinatown. Who the main characters were and what challenge they face were next to discover.
Unlike many other middle school novels, I wanted to feature a strong female protagonist. The seventh grader Sandy, and her Chinese American friend, Lee became the lead characters. Together they had to solve puzzles rooted in ancient Chinese folklore. Why? Life and death, of course! Sandy must protect her skeptical father whose only real concerns were his daughter's overactive imagination and her grades. As events unfolded, Sandy could not simply imagine outcomes. She had to develop bravery, determination, and strength to act. In order to figure out what these "events" were, I wrote four to eight hours daily for seven months.
How has being part of the Northbrook community affected your work?
The writing process demands research regardless of type of written product. The Northbrook Public Library provided valuable resources in this regard. I also made use of the bookstores for technical books for revising and editing. The Book Bin located an out-of-print book on editing written by a literature professor at the University of Chicago that contributed to the process of redrafting and sentence construction. After the initial writing, it required an additional year to reach the final draft. Northbrook is a very supportive community for writers.
What would you want to share with someone who is reading your book?
If the reader has an interest in fantasy genre, this novel is an engaging "must read." It combines suspense, magic, and everyday middle school problems in a unique way. The story demonstrates how knowledge of another culture combined with personal experience can inspire viable solutions to life's challenges, both real and imagined.
---
The Northbrook Local Collection features the works of authors, musicians, and filmmakers who currently reside, or have spent a significant part of their lives in Northbrook. Are you a local creator? Learn how you can contribute your work.