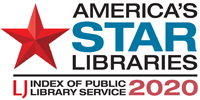 Each year Library Journal spotlights the best libraries across America, and this year, we rose in the rankings to place first in the state and second in the country within its budget category ($5M–$9.9M) by the Library Journal Index of Public Library Service.
For the second year in a row, we received Library Journal's highest rating, 5 Stars. Out of more than 9,000 libraries in the United States, it is one of only 10 libraries to receive a five-star rating in its expenditure range.
Star ratings are awarded based on the five major ways patrons use the library:
Visits to the library

Items checked out

Usage of electronic materials

Attendance at library programs

Public Internet computer use and Wi-Fi sessions
Each of these performance indicators is calculated using per capita rates to offer a measurement of the library's service to the community compared with peer libraries that have a similar amount of funding. As a result, receiving a star rating means that the library delivers a strong return on investment to its community.
"This rating is very important to us because it reflects how well we are serving our community," said Executive Director Kate Hall, "We are only able to achieve a 5-Star rating because our community supports the library and actively uses our materials, programs, and services."
The rankings are based on library usage data from prior years. For example, the 2020 Library Journal ratings reflect data submitted from 2018.
Asked whether the pandemic would have an impact on the library's return on investment, Kate says she doesn't expect it to change. "We have continued to provide core library services throughout the pandemic," she explains. "Our patrons are checking out physical and digital materials, receiving homebound services, using eResources, and maintaining a sense of community by attending our virtual programs."
In addition, the library has experienced a dramatic increase in demand for digital materials over the last ten months, including eBooks/eAudiobooks/eMagazines, and streaming movie and music services. For example, there was a 308% increase in eBook checkouts in May 2020, compared with the same period in 2019. Checkouts for other downloadable content also rose dramatically, including and movies and television, up an impressive 550%.
"We also know that many of our patrons prefer the tactile experience of reading a printed book, so we created a quick and easy way to provide physical materials to patrons. For example, in December Northbrook Public Library patrons received over 14,000 library items through our curbside pickup service," Kate says.
The library continues to look for innovative ways to serve the community and its changing needs. In May 2020, it added 13 new study rooms to accommodate patron demand for more work/study space and announced that would no longer charge fines for overdue items. It is currently remodeling its lobby and implementing an automated materials handling system to meet the changing needs of the community for years to come.
See Star Libraries on the map.
About Library Journal
Library Journal is a trade publication for librarians founded in 1876 by Melvil Dewey. It reports news about the library world, emphasizing public libraries, and offers feature articles about aspects of professional practice.