The following events are made possible by Illinois Libraries Present, a statewide collaboration between public libraries, including Northbrook Public Library, which offers high-quality events for member libraries of all sizes and budgets. To request accommodations, email illinoislibrariespresent@gmail.com. Please Note: An Evening with Michelle Zauner has moved to Thursday, June 30.
---

Illinois Libraries Present: Jessamine Chan & Emily Maloney
Wednesday, May 25 from 7:00-8:00pm (Zoom)
Join Jessamine Chan and Emily Maloney for a discussion about the systems of power that impact our lives, our families, and our finances, through the lens of their acclaimed books, The School for Good Mothers and Cost of Living.
Jessamine Chan is the New York Times bestselling author of The School for Good Mothers, her debut novel. Her short stories have appeared in Tin House and Epoch. She holds an MFA from Columbia University and lives in Chicago with her family.
Emily Maloney is the author of Cost of Living, a collection of essays. Her work has appeared in Glamour, Virginia Quarterly Review, and Best American Essays, among others. She holds an MFA from The University of Pittsburgh and lives in Evanston, Illinois, with her partner and their dog.
---

An Evening with Kwame Onwuachi
Wednesday, June 22 from 7:00-8:00pm (Zoom)
Join us for an engaging evening with chef Kwame Onwuachi. His first cookbook, My America: Recipes from a Young Black Chef celebrates the cuisine of the African diaspora, "the world's wisest food." He'll share the importance of the connections between cuisine, place, and culture.
Kwame Onwuachi is a James Beard Award-winning chef who was born on Long Island and raised in New York City, Nigeria, and Louisiana. Onwuachi was first exposed to cooking by his mother, in the family's modest Bronx apartment, and he took that spark of passion and turned it into a career. He trained at the Culinary Institute of America and opened five restaurants before turning thirty. A former "Top Chef" contestant, he has been named "Food & Wine's" Best New Chef 2019 and a 30 Under 30 honoree by both "Zagat" and "Forbes." Onwuachi's 2019 memoir, Notes from a Young Black Chef received critical acclaim.
---

An Evening with Michelle Zauner
Thursday, June 30 from 7:00-8:00pm (Zoom)
Join us for an evening with musician and author Michelle Zauner as she discusses her music career and her beloved bestselling memoir, Crying in H Mart. Jessica Hopper joins her in conversation.
Michelle Zauner is best known as a singer and guitarist who creates dreamy, shoegaze-inspired indie pop under the name Japanese Breakfast. She has won acclaim from major music outlets around the world for releases like Psychopomp (2016) and Soft Sounds From Another Planet (2017). Critically acclaimed Jubilee (2021) is currently nominated for two Grammy awards. Crying in H Mart is her first book.
Jessica Hopper is a music critic, producer, and author based in Chicago. In a career spanning more than twenty years, Hopper has earned acclaim as a provocative, fearless music journalist. She has written for, among others, GQ, Rolling Stone, The New York Times Magazine, The Guardian, Elle, and the Chicago Reader. She is the author of The First Collection of Criticism By A Living Female Rock Critic and co-founded Golden Teapot, a production company specializing in music and culture documentary work.
---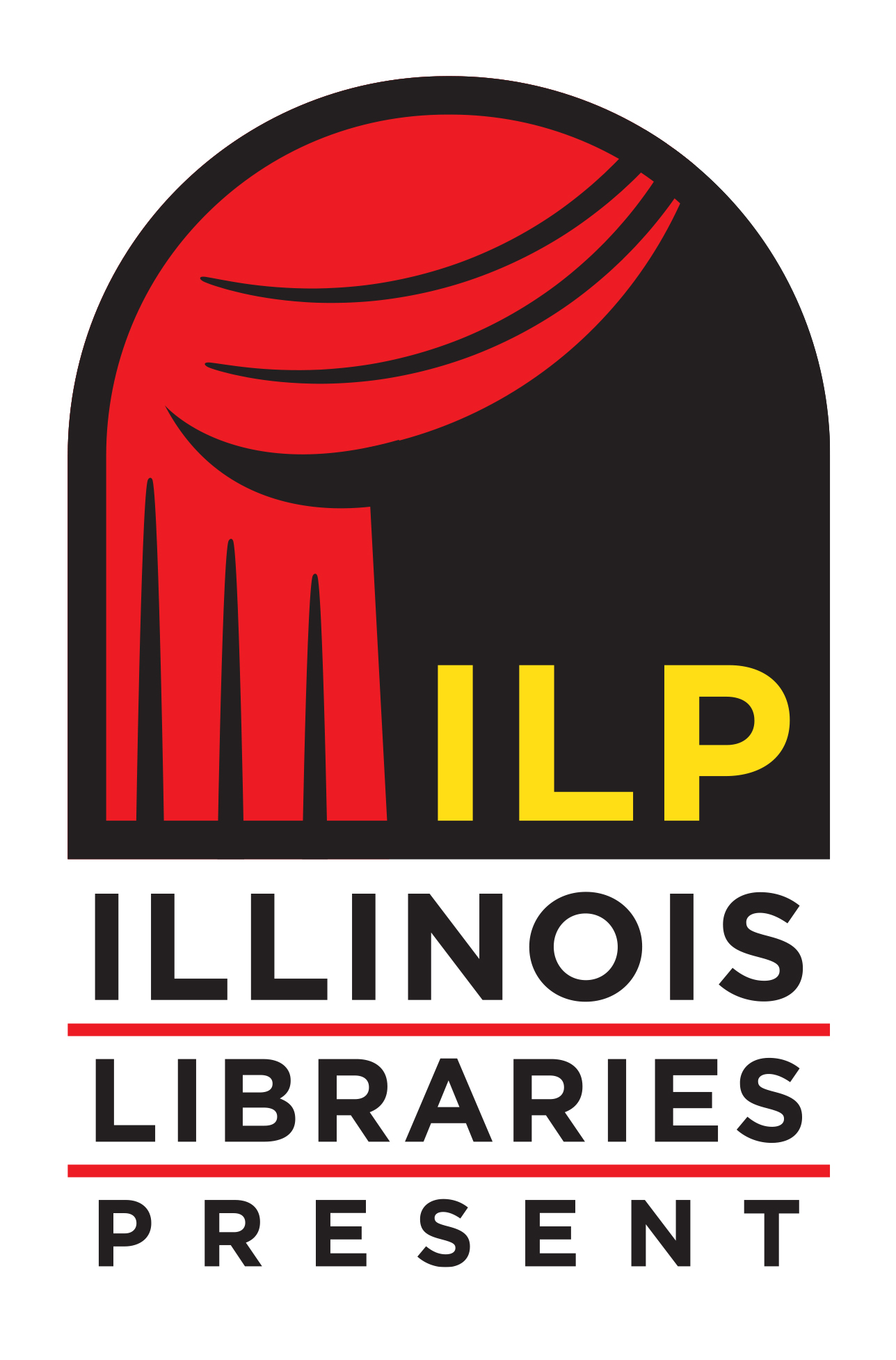 About Illinois Libraries Present
This event is made possible by Illinois Libraries Present, a statewide collaboration among public libraries offering high-quality events. Illinois Libraries Present is funded in part by a grant awarded by the Illinois State Library, a Department of the Office of Secretary of State, using funds provided by the U.S. Institute of Museum and Library Services, under the provisions of the Library Services and Technology Act (LSTA).
Illinois Libraries Present consists of over 200 public libraries across the state who have joined together to provide high-quality online events at equitable prices for member libraries of all sizes and budgets. It connects communities and audiences across the state through shared event experiences. We're proud to be involved with such a great collaboration. Our Executive Director, Kate Hall chairs the Steering Committee, and our Auditorium Coordinator, Arielle Raybuck chairs the Event Production Committee.
Goals:
To provide high-quality, high-profile events that highlight national names and social justice/DEI issues, that would otherwise be cost-prohibitive for single libraries to hold on their own.

To reduce costs and maximize reach by taking advantage of both virtual event platforms and the collective buying power of Illinois public libraries.

To allow access to all libraries as equitably as possible, by aligning each library's cost to participate with the size of their operating budget.

To define clear and distinct roles among Illinois Libraries Present committees and the participating libraries, including patron contact points, marketing, invoicing, etc.
The group also is committed to inclusion and accessibility. To request accommodations, email illinoislibrariespresent@gmail.com.
Past Illinois Libraries Present Events
An Evening With Nick Offerman & Jeff Tweedy (4/27/22)
Watch the recording until May 12
An evening with actor, humorist, and woodworker, Nick Offerman. Best known for his breakout role as Ron Swanson in the acclaimed series Parks and Recreation, Nick will be discussing his newest book, Where the Deer and the Antelope Play: The Pastoral Observations of One Ignorant American Who Loves to Walk Outside. His walking companion, Jeff Tweedy of Wilco, will join him in conversation. Jeff Tweedy is an American musician, songwriter, author, and record producer best known as the singer and guitarist of the band Wilco. Originally from Belleville, IL, Tweedy has released 20 studio albums across his career. He is the author of two books, Let's Go (So We Can Get Back): A Memoir of Recording and Discording with Wilco, Etc. and How to Write One Song: Loving the Things We Create and How They Love Us Back.
An Evening With Jasmine Guillory (2/16/22)
A lively evening with one of romance's brightest new voices, bestselling author Jasmine Guillory, as she discusses her newest novel, While We Were Dating, and the modern rom-com. Author Morgan Rogers (Honey Girl) will join her in conversation. Jasmine Guillory is a writer, lawyer, and New York Times bestselling author of six romance novels, including The Wedding Date, The Proposal, and While We Were Dating. NPR called The Proposal, "Rollicking, charming, and infinitely zesty." Her work has appeared in O, The Oprah Magazine, Cosmopolitan, Bon Appetit, and Time. She lives in Oakland, California where she has towering stacks of books in her living room, a cake recipe for every occasion, and upwards of 50 lipsticks.
An Evening With Jenny Lawson (3/30/22)
An evening with award-winning humorist Jenny Lawson, who will discuss her most recent bestseller, Broken (in the best possible way), and her brilliantly funny body of work. Jenny is an American journalist, author, and blogger known for her great candor in sharing her struggle with mental illness. "The Bloggess" lives in Texas with her husband and daughter and was constantly "buying too many books" ("Not a real thing," she insists), so she decided to skip the middleman and just started her own bookshop, which also serves booze because books and booze are what magic is made of. She has previously written Let's Pretend This Never Happened and Furiously Happy, both of which were #1 New York Times bestsellers. Joining Jenny in conversation will be R. Eric Thomas, a national bestselling author, playwright, and screenwriter. Off the page, Eric is also the long-running host of The Moth StorySLAMS in Philadelphia, and often appears on The Moth Radio Hour, NPR's All Things Considered and It's Been A Minute with Sam Sanders.