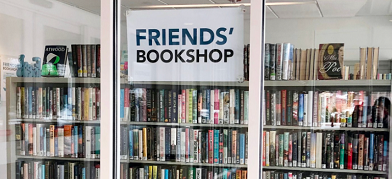 Located at the west entrance to the library, The Friends' Used Bookshop offers collections of fiction, non-fiction, art/coffee table books. and paperbacks.
If a volunteer is not present to take your payment, please place your payment into a secure box on the door in the Bookshop.
Hours
Monday - Thursday: 9:00am-9:00pm
Friday: 9:00am-6:00pm
Saturday: 9:00am-5:00pm
Sunday: 1:00-5:00pm
Pricing
$1 to $9 per title
25¢/paperback
Three managers and a dozen volunteers make up the shop staff. Additional volunteers are always welcome!
Book Donations: Please drop off book donations at the Bookshop (during its open hours) or in the donation bin in the west vestibule. (We do not accept encyclopedias, A/V materials, medical, or legal texts.)
For tax purposes, the Library can supply documentation on the number of books donated, however, we cannot assign a value to them. To obtain a donation receipt, please visit the Bookshop during its open hours.
Contact the Friends
Learn more about the Friends of the Library, and how you can get involved at www.northbrook.info/friends, or call 847-272-3679, email friends@northbrook.info, or write:
Friends of the Northbrook Public Library
1201 Cedar Lane
Northbrook IL 60062