Wednesday, October 20, 2021 - 11:45am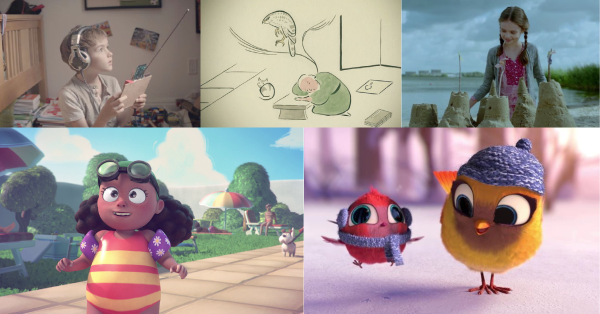 We are proud to partner with the International Children's Media Center (ICMC) to present the Northbrook International Children's Film Festival on Saturday, November 6 at 2:00pm. This year's event will be held virtually, with attendees able to watch the short films at home on Vimeo and then attend a Zoom afterparty at 3:30pm to meet some of the films' international directors!
The festival will showcase 12 captivating and culturally rich films from 12 different countries, including South Africa, Switzerland, Czech Republic, New Zealand, Canada, Germany, Japan, USA, France, Netherlands, U.K, and Serbia. The theme of this year's event is "Seeing the Best in Others."
One of the directors who will attend the afterparty is Koji Yamamura, an exceptional Japanese animator and director who will be getting up early to attend our event!
This collection of world-class children's films will appeal to children ages 5 to 10, but kids of all ages will find something to spark their imagination.
"Parents will want to watch the films at home with their children, just as they would at the festival, says ICMC director Nicole Dreiske. "Parents can interact about the movies during the screening, then talk to children about their favorite films and help them vote," she continued.
Audience members who attend this virtual film festival will be able to vote for their favorite film to win "Best of the Fest." The results will be tallied and the winning film will be announced on the library's website and www.icmediacenter.org.
The Film Festival is free to attend and is open to the public, but advance registration for both the films and the afterparty is required. Register at www.northbrook.info/filmfest.
For more information on the International Children's Film Festival, please contact Auditorium Coordinator Arielle Raybuck or film fest representative Shane Burtker at 773-528-6854 or e-mail: press@icmediacenter.org.
This event is co-sponsored by the Friends of the Northbrook Public Library.
The Films
Belly Flop (South Africa)
2018, 5 Minutes
Directors: Jeremy Collins, Kelly Dillon
A young girl sets her sights on the high dive at her local pool. Nonverbal.
Lynx and Birds (UK)
2017, 3 Minutes
Directors: Francesco Mazza, Simone Giampaolo
A mother bird rushes to protect her baby from a predator, who surprises them with kindness. In English.
Meet the Director in the Zoom Afterparty!
Bearing (Czech Republic)
2019, 2 Minutes
Director: Daniela Hýbnerová
While strolling through the woods, a baby bear gets separated from its mother. Nonverbal.
Chicago Premiere.
Kiri and Lou (New Zealand)
2019, 5 Minutes
Director: Harry Sinclair
Kiri and Lou are two best friends who like to laugh, sing, and play while learning about new feelings and other friends. In English.
Chicago Premiere.
Meet the Director in the Zoom Afterparty!
Little Bird & Squirrel (Switzerland)
2015, 4 minutes
Director: Lena von Döhren
When a bird and squirrel have a disagreement, a sneaky fox forces them to work together. Nonverbal.
Meet the Director in the Zoom Afterparty!
Transmitter Receiver (Canada)
2017, 9 Minutes
Director: Vincent Wilson
A young boy builds a device that he hopes will allow him to communicate with strangers beyond the earth. The truth is somewhat closer to home. In English.
Chicago Premiere.
Meet the Director in the Zoom Afterparty!
Tiger (Germany)
2015, 4 minutes
Director: Kariem Saleh
A tiger imprinted on a child's dinner plate becomes impatient and roams the kitchen table in search of food. Nonverbal.
The Pig on the Hill (USA/Serbia)
2018, 6 Minutes
Directors: John Helms, Jamy Wheless
A pig is living a quiet life until a noisy new neighbor moves in. In English.
Meet the Director in the Zoom Afterparty!
Dreams into Drawing (Japan)
2019, 10 Minutes
Director: Koji Yamamura
When an artist falls asleep, he dreams of being a carp that interacts with the creatures and humans around him. In English.
Meet the Director in the Zoom Afterparty!
Game Changer (USA)
2018, 3 Minutes
Director: Aviv Mano
A toy at an arcade tries to sabotage an unlikely player who wants to win him as a prize. Nonverbal.
C'est Moi Le Plus Beau (France/Belgium)
2018, 6 Minutes
Directors: Anaïs Sorrentino, Arnaud Demuynck
A vain wolf scours the forest for other animals to tell that he is the most handsome creature of them all. In French with English subtitles.
U.S. Premiere.
Freeze (Netherlands)
2014, 15 minutes
Director: Maria Peters
A young girl attempts to protect herself and others in her town when a magical spell falls into the wrong hands. In Dutch with English subtitles.
Chicago Premiere.
Sponsored by