Friday, April 13, 2018 - 3:00pm
Meet our digital services assistants, Ursula Andreeff and Hugh Sato! They are part of the team that is responsible for launching the Collaboratory and they've been busy curating materials and prepping equipment for use and maintenance. Ursula and Hugh are also designing ways for patrons to learn how to use all the different and exciting tools we have so that patrons can build their dream projects!
What do you enjoy most about working at the library?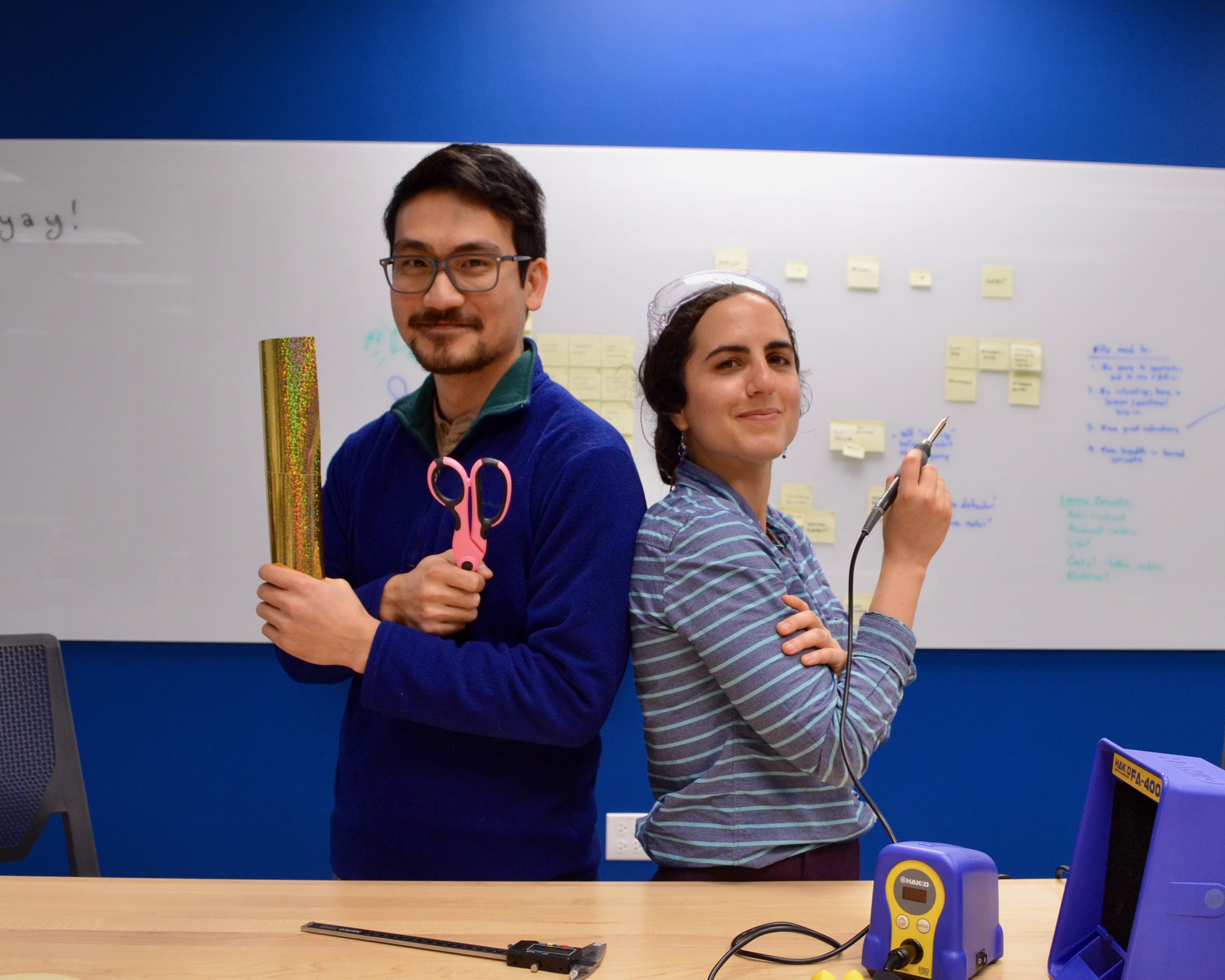 URSULA: First off, I love how friendly the staff and patrons are at NPL. I enjoy having the opportunity to constantly learn new skills here. While getting ready for the Collaboratory grand opening I have learned about new kinds of equipment like Raspberry Pi's and the HTC Vive.
HUGH: The people I work with, and the support that the community has shown of our past programming and future efforts with the makerspace. We've seen a great number of interest and curiosity in making anywhere from art projects to home repairs, and it's exciting to be able to bring that to patrons in the context of a public knowledge repository like the library. I think it just makes sense to be able to pick up a book, find yourself daydreaming of some crazy idea, and then be able to build it in the same place you got that book from!
What's something we may not know about you?
URSULA: Outside of working in the Digital Services department, I am also a painter and run a fashion line called JUPITER XI Apparel. All the garments are based off of my artwork.
HUGH: I'm also a practicing new media artist, which means I blend art and technology together. Specifically, I work with choreographers, dancers, composers, theaters, and exhibitions to make interactive experiences that help you understand collectivity, modes of leadership, and activism or resistance through embodied movement. Ultimately, what use is technology without the context of the human body, and how does it change how we collectively make decisions about ourselves, and our society?
What are some good books you've read lately? What about films?
URSULA: I've recently read the play Fences by August Wilson, the graphic novel Zahra's Paradise by Amir & Khalil, and saw the film "Get Out" by director Jordan Peele.
HUGH: I've been enjoying Asymmetry by Lisa Halliday, but I'm typically more of a nonfiction reader. The book, Creating Exhibitions [...] by Janet Kamien and Polly McKenna-Cress has been vital to my work lately! Super interesting ideas about cross-collaborations among different teams and stakeholders on a project. On another note, the Japanese film "Nobody Knows" has been sitting on my table unwatched for perhaps too long...
What are you listening to these days (audiobooks, music, podcasts, etc.)?
URSULA: I've been listening to music from Latin America. Chancha via Circuito, Reyna Tropical, and Mala Rodriguez have been on rotation.
HUGH: Listening to lots of Tinariwen and the album Blood by Rhye. The music video for "Dove" by Pilar Point is awesome! Plus there's a healthy stream of "lofi hip hop radio" on Youtube, drifting through the doorways of my apartment.