Project Overview
In June, 2017, the Library Board voted to approve the building of a makerpsace in what is now the Newspapers and Magazines Room on the second floor of the library. The makerspace is set to debut in May, 2018.
Read below for all the details on our upcoming new space and the changes you'll see in our Reference area. You can also receive updates about the makerspace and our maker programs by signing up for our monthly Maker enewsletter.
Makerspace Updates
April 18, 2018
Construction of the Collaboratory has been completed! We'll be open to the public in early May with a Grand Opening party slated for Saturday, July 28. Stay tuned for more details.
February 16, 2018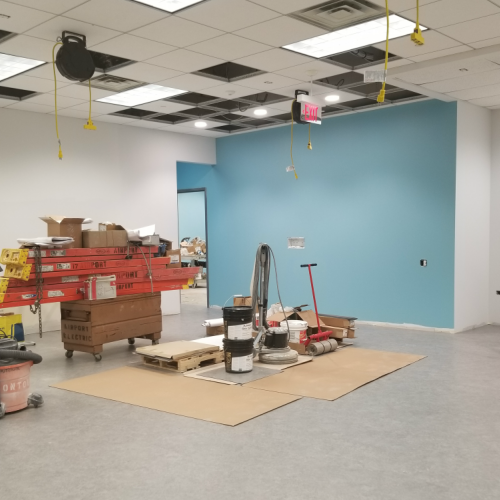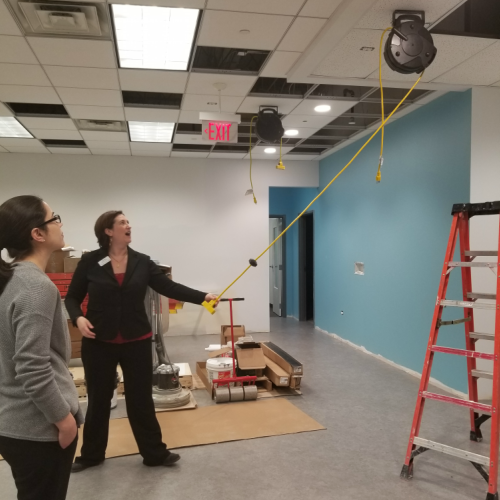 Construction on the Collaboratory has been moving along nicely and is on target to finish in mid-March. Wall construction and painting is complete, and the new flooring has been installed. We have also completed two rooms in the space that will be used for digital projects, such as editing podcasts and converting vinyl to digital. The glass doors at the Reference department entrance and the Youth Services department entrance are just about ready to be installed.
Once construction is complete, the Village of Northbrook will review our space and grant us occupancy. At that time, staff will move into the space and continue their extensive training on the technology in the Collaboratory. In March and April, we will work on installing and our new equipment and finalizing our policies before the space opens to the public in May.
In our March/April newsletter, we introduced you to 3 makers who are anticipating the new space. You can read more about them here.
December 14, 2017
Now that we are completely finished shifting our nonfiction collection and our magazines and newspapers, we are ready to begin building the new makerspace. Construction on the Collaboratory will officially begin on Monday, January 15.
In November, our Board of Trustees officially approved the bids and the furniture, fixture, and equipment costs for the new space. In total, the project will cost $426,741.36. The Capital Improvement Fund provided 91% of the revenue for the Collaboratory. The library uses this fund to complete building improvements without seeking additional tax revenue. The remaining 9% comes from the generous bequest of Howard Peltz.
October 24, 2017
In September, we asked you to vote on your favorite name for our new makerspace. The results are in: the space will be officially called the Collaboratory!
The name Collaboratory appealed to many people, and we like what it means: bringing together people of all ages and backgrounds to generate creative solutions. We feel it aligns well with our vision and mission for the makerspace and the library, and we hope you like it too!
Earlier this fall, we began shifting our collection to prepare for the Collaboratory's construction. In November and December, you'll see the Reference department's new magazines area come together, as well as additional seating in the department. Construction on the Collaboratory will begin in the old Magazines & Newspapers room in January.
FAQs for the Makerspace and Reference Redesign
Q. I heard the library is building a makerspace. What exactly is a makerspace?
A makerspace is any dedicated place where you can use a variety tools and technology to collaboratively learn, invent, design, and build.
Our space will feature high-tech tools like a 3D printer, laser cutter, and CNC machine, along with more traditional supplies and tools for low or no-tech making, such as crocheting, sewing, soldering, basic circuits, etc. We'll also have a digital media room for creating and editing audio, movies, and images, and a space for converting your old media to digital.
Q. What can I do in the library's makerspace?
We will have tools and materials available for a variety of high, low, and no-tech activities. You will be able to sew, crochet, print a 3D replacement for a broken part, laser cut a plaque, edit your movie, convert your vinyl to digital, and more. Knowledgeable staff will help you learn to use the equipment during our open shop hours and registered maker programs.
Q. Where will the makerspace be located?
The makerspace will be in the current Newspapers and Magazines rooms on the second floor. Construction will be managed in a way to limit any impact on library services.
Q. When will the makerspace open?
We hope to open in May 2018. Here's our current timeline:
January-March 2018: Construction
April-May 2018: Outfitting with equipment and tools and staff training.
May 2018: Opening
July 2018: Official grand opening.
Q. What will happen to everything currently in the Newspapers and Magazines room?
We plan to relocate all of the current services in the Newspaper and Magazine room out onto the floor. Newspapers and magazines (including back issues) will be located conveniently in the Reference area. You will have more access to more resources near the Reference desk. We will also create collaborative learning spaces, a quiet seating area, and upgrade our printing services and microfilm reader.
Q. Where will I go to book study rooms and get help with faxing?
Our staff at the Reference Desk will help you book study rooms, fax and copy items, find periodicals, and use microfilm.
Q. How much will this project cost and how is it being paid for?
In total, the project will cost $426,741.36. The Capital Improvement Fund provides 91% of the revenue for the Collaboratory. The library uses this fund to complete building improvements without seeking additional tax revenue. The remaining 9% comes from the generous bequest of Howard Peltz.
Q. How will construction affect my use of the library?
There will be minor interruptions as we move the newspapers, magazines, and microfilm onto the Reference floor and rearrange some of the surrounding space. The Newspapers and Magazines room will be closed for construction and training from January to May.
Q. Where can I go to learn more about the project?
Glad you asked! We will continue to update this page with more information as we have it. We also recommend that you sign up for our Maker email newsletter.
Makerspace Renderings
Below are architectural renderings for the makerspace, updated December 2017