Congratulations to the Best of Fest Winner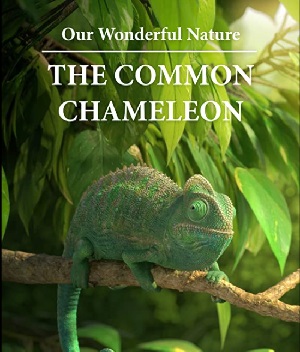 Our Wonderful Nature
Germany, 2016
Directed by: Tomer Eshed
Congratulations to director Tomer Eshed and his talented team, winners of the Best of Fest prize at the 5th Annual Northbrook Library's International Children's Film Festival. The hilarious short film, "Our Wonderful Nature" featured a greedy chameleon who charmed numerous votes from the audience of 200 parents and children who attended the virtual event.
---
On November 7, the Northbrook International Children's Film Festival showcased 11 captivating short films from 8 different countries, as well as a Zoom afterparty for audience members and film directors.
Each year, the International Children's Film Festival showcases award-winning short films from around the world designed to stimulate the imagination of parents and children alike. After watching the films at home, attendees were invited to join a Zoom afterparty with some of the film directors, including Virginia Abramovich and her daughter, Ana, who is the main character in the film (Little Questions, Canada), Leandro Tadashi (Ba, Brazil) and Elena Walf (Bat Time, Germany).
Co-hosted by the Chicago-based International Children's Media Center, the festival showcased eleven captivating and culturally rich films from eight different countries, including South Korea, Germany, and Brazil. With the theme "Caring and Sharing," it featured six Chicago premieres and highlighted short films that explore the enduring themes of empathy, understanding, and friendship despite barriers of all kinds. Children and adults alike will resonate with these unique films and their themes that illustrate just how important it is to care for one another.
"Parents will want to watch the films with their children, just as they would at the festival," says ICMC director Nicole Dreiske. "They can interact about the movies during the screening, then talk to children about their favorite films and help them vote," she continued. Read Dreiske's Co-Viewing Tips for Parents.
After watching the films, attendees were able to cast a vote for their favorite film to win "Best of the Fest."
The International Children's Film Festival not only provides quality entertainment to young audiences. It offers them global perspectives and teaches them to develop healthy screening habits, according to Nicole Dreiske, curator and author of The Upside of Digital Devices: How to Make Your Child More Screen Smart, Literate, and Emotionally Intelligent.
The final film, Little Questions, featured poignant interviews by a seven-year-old girl who is searching for a way to end war. Director Virginia Abramovich says, "Thank you so much for screening the film and for bringing this very important topic into public discussion at this time."
"At a time when we're seeing so much conflict and concern, the Library is delighted to bring Northbrook families this special film program, showing how shared experiences and caring for one another can bring us closer," says Northbrook Library Youth Services Manager, Kelly Durov.
"By priming kids' minds to think critically before the screening, we teach them that it's fun to be discerning digital citizens," she said. The complete line-up included: Our Wonderful Nature (Germany), Sky Painter (Singapore), Unmasked (United States), The Girl Who Spoke Cat (United Kingdom), The Ride (United States), Two Balloons (United States), Ba (Brazil), Bat Time (Germany), Saturday's Apartment (South Korea), 1-2-3 Pas Soleil (France), Little Questions (Canada).
This event is cosponsored by the Friends of the Library.
Special Thanks to: Howard Conant and